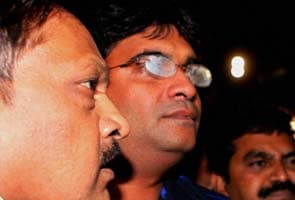 Mumbai/New Delhi:
Just as the sixth edition of the Indian Premier League began in April this year,
Gurunath Meiyappan
allegedly told small-time actor Vindu Dara Singh that he had been "warned by the ICC" to be careful of the company he was keeping.
Mumbai Police sources allege that they have phone records of the conversation between the two and that it has been corroborated by Vindu; the two men are under arrest and are being questioned in police custody for their alleged involvement with bookies as part of investigations into betting and spot-fixing in the IPL.
Mr Meiyappan is the son-in-law of Board of Control for Cricket in India (BCCI) president
N Srinivasan
, who has been stonewalling increasing demands for his resignation ever since the former was arrested.
The alleged conversation between Mr Meiyappan and Mr Singh, if true, suggests that the International Cricket Council or ICC was watching Mr Meiyappan for his alleged association with bookies even before the spot-fixing scandal erupted in a rash of arrests mid-May. (
Track live updates
)
The question being asked now is, did then the BCCI not know of such a development? Mr Srinivasan, as BCCI chief, serves as a Director of the ICC and his board has also entrusted the ICC's anti-corruption unit with keeping an eye on Indian cricket.
On Friday evening Mr Srinivasan flatly denied any knowledge of the alleged ICC warning to Mr Meiyappan. And said once more that, "I am not resigning." (
Read
)
Mr Srinivasan has so far distanced himself completely from his son-in-law, even denying that Mr Meiyappan had a formal role in the Chennai Super Kings IPL franchise which is owned by Mr Srinivasan's company India Cements. He has explained Mr Meiyappan's constant presence with the team as "enthusiasm for cricket" though the police claim they have found, in searches at the latter's home, visiting cards that state he is the "Team Principle."
Mr Srinivasan's detractors say that there is a conflict of interest in his staying on as BCCI chief when his son-in-law is being investigated not only by the police but also by a three-member commission appointed by the board, and he must resign.
In what could mean a showdown soon, joint secretary of the board Anurag Thakur said today that he had sought that a Special General Meeting of the BCCI be called to discuss the matter. If three-fourths of the board - which has 30 full members with votes - opt to impeach the president, Mr Srinivasan, an elected functionary, can be removed. (
Read
)