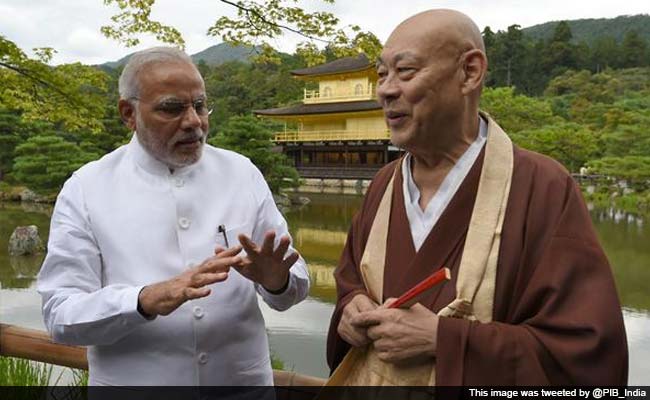 Kyoto:
"I am Modi and you are Mori" - this is how Prime Minister Narendra Modi charmed 83-year-old Yasu Nagamori, the head priest of the ancient Kinkaku-ji Temple in Kyoto that he visited on the second day of his four-day trip to Japan. (
PM Modi's Day Out in Kyoto, With Varanasi on Mind)
It's rare to see the PM as relaxed as he seemed today. Dressed in a white kurta pyjama and jacket, he walked up to tourists unannounced, waived at the crowds and even prayed at both temples. (
To Japan With Love: PM Narendra Modi's Visit in Pictures)
Amongst friends. @PMOIndia with young Japanese friends & admirers in Kyoto. pic.twitter.com/jEL1dgPSEd

-- Syed Akbaruddin (@MEAIndia) August 31, 2014
As he visited historic temples in the city, he was accompanied by his Japanese counterpart Shinzo Abe. Yesterday, the two leaders met for over an hour during a private dinner. It is unusual for a Japanese PM to greet a foreign guest outside Tokyo. (
From One Prime Minister to Another: Narendra Modi's Special Gift to Shinzo Abe
)
While most would call all this symbolism and atmospherics, the Prime Minister himself is absolutely clear. His visit to Kyoto, an ultra-modern city that preserves and protects an ancient Buddhist tradition, is an essential step towards his plan to rejuvenate cities in India. This was a point that he later made to both the Governor and Mayor of Kyoto from who he learned, first hand, how Kyoto ticks.
Yesterday, hours after PM Modi arrived in Kyoto, India and Japan signed the Kyoto-Varanasi partnership agreement to strengthen exchanges and cooperation in the fields of culture, arts, academics, heritage conservation and city modernization.
From here on, the tone of this visit will change appreciably - tough negotiations await India as both sides begin restricted and delegation-level talks in Tokyo for the next two days. India is looking towards Japan to share civilian nuclear technology, contribute to India's infrastructure development in addition to taking the military and strategic equation to an all new level.