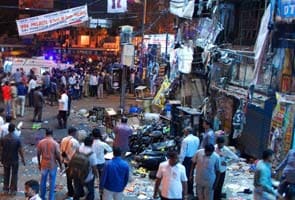 Hyderabad:
After he visited the Hyderabad suburb where 15 people were killed and 119 injured, Home Minister Sushil Kumar Shinde repeated that there had been no recent intelligence inputs that specifically warned of a terror strike in the city, but signs are emerging of a possible communication gap between different agencies.
Three days ago, intelligence officials shared an alert for a strike in a list of cities that included Hyderabad. Mr Shinde has said this warning had been shared with the listed cities, but that it was general and could not be acted upon. The alert also mentioned possible attacks in Bangalore, Hubli and Coimbatore.
The alert, sent out through the multi-alert agency, where intelligence inputs are pooled, also talked about the possible revival of the terror group Indian Mujahideen and even the possible reactivation of modules of the deadly Pakistan-based Lashkar e Taiba in India.
As far back as October, the Delhi Police arrested four men who it said were members of the Indian Mujahideen. One of them told the police that he had surveyed Dilsukhnagar, where two bombs ripped through the packed market last evening in rush hour.
It's not clear how seriously intelligence officials took that disclosure, which was also part of a press release by the Delhi Police in October and re-issued last night.
In Dilsukhnagar, police officers say the wires of a security camera near the site of yesterday's blasts had been cut four days ago. Nobody tried to re-connect the camera, though traffic policemen were aware of the lapse.
Another point that investigators from Delhi and Hyderabad are focusing on is that 15 minutes before the bombs, placed on cycles, exploded with huge force, Hyderabad police commissioner Anurag Sharma drove to a temple just a few feet from where the bombs were placed.
Officials are examining whether that temple, where a bomb exploded in 2002, killing two people, may have been the target of the terrorists, who were forced to change the location of the bombs after the commissioner arrived there.