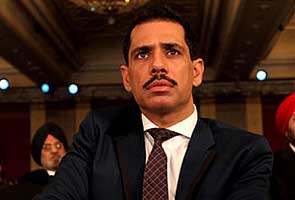 New Delhi:
Alleged land deals involving Congress president Sonia Gandhi's son-in-law Robert Vadra in Haryana exploded in Parliament today with the BJP accusing the government of protecting Mr Vadra and asking for a Supreme Court monitored investigation into his deals.
"There are many business schools that teach us how to make money and profit, but one highly connected person in our country has learnt the art of making hundreds of crores of rupees without going to any business school, without making any investment," said senior BJP MP Yashwant Sinha, in the Lok Sabha.
Finance Minister P Chidambaram could take some tips from Mr Vadra, scoffed Mr Sinha, a former finance minister, as his partymen shouted slogans of "Congress ka haath, damaad ke saath (Congress's hand is with the son-in-law)".
The BJP demanded a full discussion in Parliament and even raised it at an all-party meet. But the government ruled it out.
"There is no question of having a discussion on a private individual in the House," Union Minister Manish Tewari told NDTV, dismissing the BJP's suggestion that the Finance Minister handle questions on Mr Vadra's alleged deals.
As Congress's top managers and leaders sought the support of allies to help block the discussion, BSP leader Mayawati came out in the party chief's support.
"I think it's incorrect to hold Sonia Gandhi responsible even if Robert Vadra has done something wrong. The Congress must answer," she said.
Mr Vadra has been linked to "sham deals" in Haryana by senior IAS officer Ashok Khemka, who was transferred in October last year after he sought to cancel a 58-crore land deal between Mr Vadra and real estate giant DLF.
In May, he submitted a report to the Haryana government that details his investigation against Mr Vadra and other land deals. He said that a 3.5-acre plot sold by Mr Vadra to DLF had been transacted in violation of all guidelines and the Haryana government had fast-tracked a license to use the land for a commercial project, which gave Mr Vadra a windfall gain.