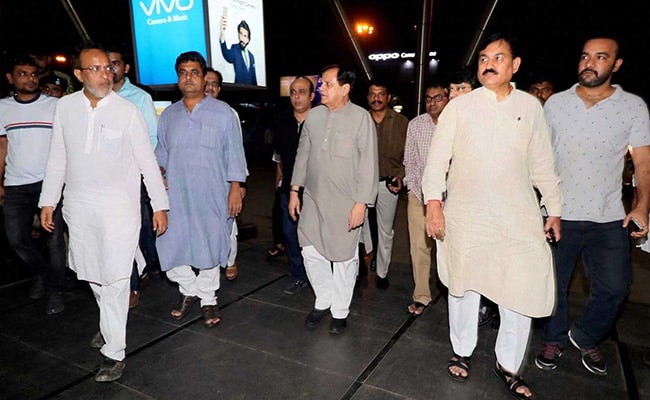 Highlights
176 Gujarat MLAs voted, each candidate needed 45 votes to win
Votes of 2 rebel Congress MLAs invalid, number drops to 44 votes for win
Ahmed Patel manages to get 44 votes amid cross-voting, defections
New Delhi:
Surviving cross-voting and defections in his party, senior Congress leader Ahmed Patel retained his Rajya Sabha seat from Gujarat in a nail-biting election on Tuesday. The Congress leader, who announced his victory on Twitter with '
Satyamev Jayate
' (Truth shall prevail), was congratulated by his party immediately, which after a long time, finally has a reason to celebrate.
But Mr Patel's victory could very well have ended in defeat had the Election Commission not accepted the Congress's claim that votes cast by its two rebel lawmakers should be cancelled because they had shown their ballot paper to the BJP chief Amit Shah.
176 legislators of the Gujarat assembly voted on Tuesday. With the two votes being declared invalid and the total valid votes down to at least 174, each candidate needed 44 votes to win, instead of the earlier 45.
Mr Patel managed an exact 44 votes - the figure that was needed to win the cliffhanger.
The senior Congress leader was counting on 44 of the party's 51 MLAs to support him. One of the 44 voted against him, so he had 43 votes from his party. It is not known yet who else voted for Ahmed Patel - he was counting on Chhotubhai Vasava, the lone Janata Dal (United) legislator, and one of two MLAs from Sharad Pawar's Nationalist Congress Party (NCP) to vote for him.
From the BJP, both Amit Shah and union minister Smriti Irani comfortably managed 46 votes each. While Mr Shah will make his debut in Parliament, Ms Irani will be re-elected to the Upper House. For the third seat, the BJP had fielded former Congressman Balwantsinh Rajput to challenge Ahmed Patel.
That was turned into a close contest due to the defection recently of six Congress MLAs and also cross-voting, all by MLAs close to local politician Shankarsinh Vaghela who is seen to be exacting revenge for the Congress' refusal to project him as presumptive chief minister in assembly elections in Gujarat later this year.