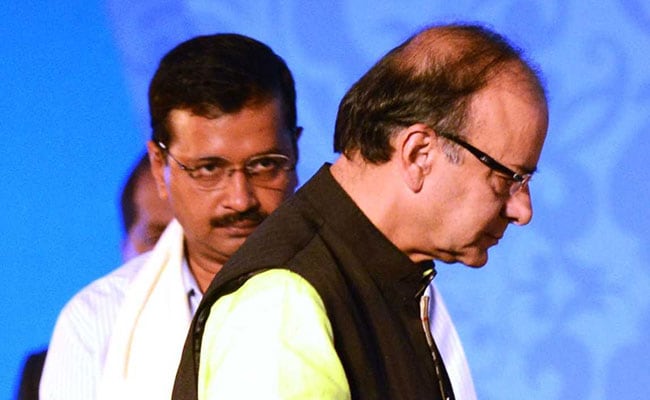 New Delhi:
Delhi High Court has closed the 10 crore rupee defamation suit filed by Union minister Arun Jaitley after Delhi Chief Minister Arvind Kejriwal apologised to him.
Arun Jaitley had filed this second defamation suit after Arvind Kejriwal's former lawyer Ram Jethmalani allegedly "abused" him in open court during the proceedings of the original defamation suit against the Aam Aadmi Party chief and five other party functionaries.
Justice Manmohan allowed the settlement application jointly filed by Mr Jaitley and Mr Kejriwal and disposed of the suit following the Mr Kejriwal's apology, which was accepted by the BJP leader.
The court accepted the written undertaking and statement of both the leaders and decreed the suit in accordance with the settlement application.
During the hearing, advocate Anupam Srivastava, appearing for Mr Kejriwal, told the court that the matter was settled and Mr Jaitley had accepted the apology tendered by the Aam Aadmi Party leader.
Senior advocate Rajiv Nayyar and advocate Manik Dogra, representing Mr Jaitley, also said that the dispute was settled by the parties.
The court noted that the settlement application was signed by the leaders as well as their advocates who undertook that their clients would abide by the undertaking given.
Later today, another bench of the high court is scheduled to hear Mr Jaitley and Mr Kejriwal's settlement application in the first defamation suit.
Mr Kejriwal had on March 19 opposed in the High Court the second Rs 10 crore defamation suit filed against him by Mr Jaitley over the use of an objectionable word by Ram Jethmalani. He claimed that he had never instructed his then counsel to use any scandalous words against the minister during recording of evidence.
During the cross-examination of the minister on May 17 last year before Joint Registrar, Mr Jethmalani had used a term Arun Jaitley found objectionable.
AAP leaders had accused the BJP leader of corruption as the president of the Delhi and District Cricket Association (DDCA), a post he had held from 2000 to 2013.
Mr Jaitley, who had denied all allegations levelled by the Aam Aadmi Party leaders in December 2015, had filed a civil defamation suit seeking Rs 10 crore damages from Mr Kejriwal and five other leaders of his party, claiming they had made "false and defamatory" statements in the case involving DDCA, thereby harming his reputation.