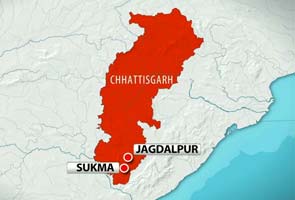 Bastar, Chhattisgarh:
An injured radio operator was left behind by an Indian Air Force (IAF) crew in the jungles of Chhattisgarh after their helicopter was shot down by Naxals this evening, but Central Reserve Police Force (CRPF) commandos rescued him.
The M-17 helicopter was forced to land in south Bastar after being hit by Naxal gunfire. The IAF crew left behind the radio operator - a Chhattisgarh policeman - as well as the damaged helicopter. Several hours later, CRPF commandos located the helicopter and rescued the injured radio operator.
Top Chhattisgarh officials told NDTV that earlier this afternoon, a Chhattisgarh policeman was killed and another severely injured in a gunbattle at Timilwara under Chintagufa police station on the Chhattisgarh-Andhra Pradesh border.
An IAF helicopter was sent to evacuate the policeman. The helicopter took off from the Jagdalpur around 4.30 pm. As it flew into Timilwara, the helicopter was hit twice by Naxal gunfire, damaging its hydraulic systems and generators.
Sources said the captain pulled down the helicopter about 4 km away. But in an inexplicable decision, the six crew members left the injured radio operator and went looking for help.
"We are unable to understand why the captain and the crew decided to leave behind an injured man and the helicopter," a senior Home Ministry official told NDTV and added that the crew had a light machine gun and other weapons on them.
The IAF team reached Chintagufa police station around 7.30 pm, sources said. CRPF and the police then sent commandos to rescue the radio operator and secure the helicopter.
An IAF spokesperson confirmed the incident and said: "After successfully landing the helicopter, the crew's first task was to seek support to secure the chopper and get medical attention for the injured jawan."
The IAF, however, didn't explain how the damaged helicopter could have been protected and the injured radio operator attended to when the entire crew decided to walk away.
But the Home Ministry appears to differ with the IAF. Union Home Secretary R K Singh announced a reward of Rs 5 Lakh for the CRPF commandos who rescued the radio operator.