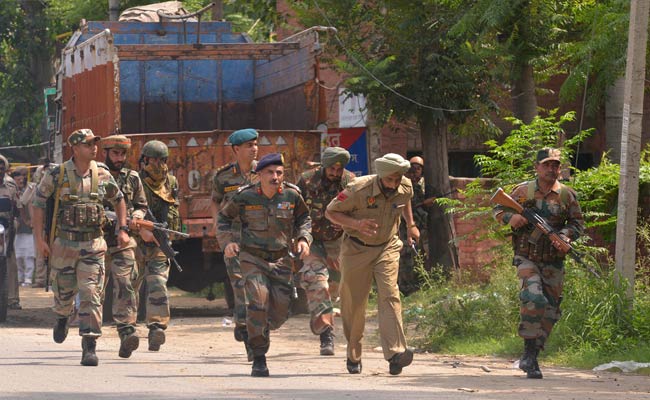 Gurdaspur:
Home Minister Rajnath Singh met Defence Minister Manohar Parrikar and National Security Adviser Ajit Doval this evening to discuss today's terrorist attack in Gurdaspur, Punjab.
Sources said Prime Minister Narendra Modi too could meet his top ministers and Mr Doval after a report has been received from the Punjab government. The PM had met senior minsters this morning too; Rajnath Singh was out of town and returned only in the evening today.
Early on Monday morning, three terrorists attacked a bus and then a police station in Dinanagar in Gurdsapur, killing five people. They then holed up in the empty police stations and exchanged fire with security forces. A senior police officer was killed in the gun battle.
The counter- terror operation lasted 12 hours; all the terrorists have been killed.
At the PM's meeting - which could be held later today if all reports on the terror attack are in - the ministers are expected to discuss a road map on tackling terror and also a security upgrade, sources said.
They will also discuss the government's strategy in Parliament, where the Opposition Congress today alleged a major "security lapse and intelligence failure".
"It is said that they (the terrorists) have come from across the border... if that is true, it is a security lapse and intelligence failure," Congress leader Anand Sharma said, adding that Prime Minister Narendra Modi needed to take firm steps.
Responding to opposition demands in Parliament, Rajnath Singh said he would make a statement in Parliament tomorrow. "There should be no politics for a case like this," said Parliamentary Affairs Minister Venkaiah Naidu.
Punjab Chief Minister Parkash Singh Badal, whose Akali Dal is an ally of the BJP, appeared to blame the union government for today's attack. "The terrorists didn't come from Punjab, they came from the border. It's the Centre's job to seal the border," he said.