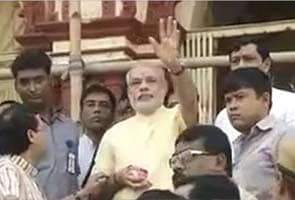 Kolkata:
Nitish Kumar, who is evaluating his partnership with the BJP, will not be pleased. In Kolkata today, Narendra Modi suggested that his Gujarat model can be modified to benefit states like Bihar.
He stressed on the pun: "The philosophy and direction are the same, it only needs modification," he said, and then, without skipping a beat, added with a grin, "not MODI-fication." The audience, made up of Bengal's top industrialists, broke into laughter.
Mr Modi did not not name Bihar; a member of the audience did when he asked whether the Gujarat model of development could be successfully applied to a largely agriculture-based state like Bihar.
But Mr Modi did not protest either that Bihar - which his party the BJP rules along with Mr Kumar's JD(U) - was doing very well thank you.
Mr Kumar has been threatening to exit the NDA, the national alliance that the BJP heads, if Mr Modi is chosen to be the prime ministerial candidate for next year's general elections. Though he has been promoted recently within the BJP to posts that will give him a large say in plans for the national elections, Mr Modi has not yet been declared the BJP's presumptive candidate, despite the clamour of party workers.
The Bihar Chief Minister too prides himsef on governance and like Mr Modi, is said to harbour the ambition to extend his successes in Bihar on a national level. Mr Kumar said yesterday that his party will decide next week whether or not it will continue to partner the BJP. The Congress, which is scouting for potential political allies, is watching keenly.