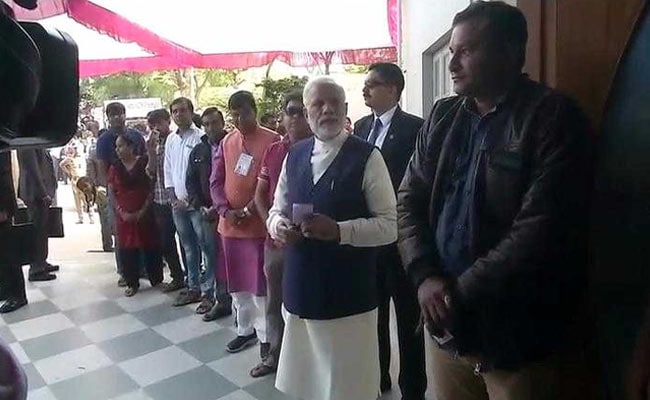 Highlights
After voting, PM Modi met older brother Somabhai Modi
PM Modi's mother had voted early in the morning in Gandhinagar
Big urban centres like Ahmedabad and Vadodara voted in Phase 2 of polls
Ahmedabad:
Prime Minister Narendra Modi's 100-metre walk to his car after voting, holding up his inked finger as thousands of people shouted slogans, has quickly snowballed into a controversy. T
he Congress has alleged that the PM's walk amounts to a "road show"
while the state votes in the final phase of assembly elections.
PM Modi arrived a little after noon at the Ahmedabad school
where polling booth number 115 was set up, and waited in queue for his turn to vote. After voting as he exited the booth, he met his older brother Somabhai Modi, who was also there to vote. The Prime Minister touched his brother's feet and the two men shook hands.
The Prime Minister's mother Hiraba, 95, had voted early in the morning in Gandhinagar.
PM Modi has been a voter in Ahmedabad for many years. For 13 years he was Gujarat's chief minister before he led the BJP to a big win in the 2014 national election and moved to Delhi. This morning, the Prime Minister was in Mumbai, where
he commissioned the Indian Navy's latest submarine INS Kalvari
, before flying to hometown Ahmedabad to vote.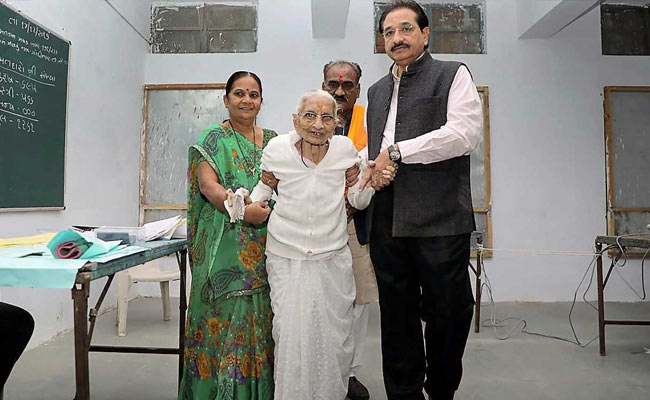 He has appealed to the state to vote in large numbers.
As he wrapped up a hectic campaign earlier this week, PM Modi made an emotional vote appeal asking Gujarat to "not only give the BJP an overwhelming majority but also ensure that BJP wins in every polling booth across the state." The BJP, which has been in power for the last 22 years, faces a stiff challenge from a resurgent Congress galvanised by its leader Rahul Gandhi's aggressive campaign in the state.
For PM Modi, who is the face of the BJP's campaign in Gujarat, and party chief Amit Shah, retaining their home state is a matter of prestige and crucial ahead of the 2019 national election, when PM Modi will seek a second term. For Rahul Gandhi, who takes over as Congress chief on Saturday, two days before the Gujarat votes are counted, the election is seen as a test of leadership.
The Congress has alleged that PM Modi's walk today was a violation of rules and designed to influence voters and has demanded that the Election Commission act against PM Modi just the way it has against Rahul Gandhi, who has been issued a notice over a television interview aired on Wednesday by a Gujarat channel. The opposition party's complaint over the Prime Minister's address to industry body FICCI yesterday failed to draw a response from the poll panel.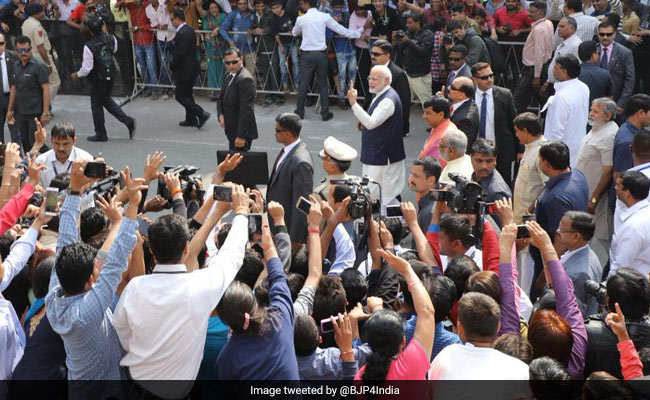 "PM Modi's sinking ship can only be saved by support from the Election Commission. The EC has now emerged as a frontal organisation of the BJP," alleged the Congress' Randeep Surjewala.
Former union minister
P Chidambaram accused the poll panel of "sleeping on the job".
The Congress leader tweeted, "It is an election campaign. What is the EC doing?"
Voting was held today in 93 of Gujarat's 182 constituencies in north and central Gujarat. The other 89 had voted on Saturday last. Big urban centres like Ahmedabad and Vadodara voted today and it is crucial for the BJP to retain these to ensure a fifth straight term in power.