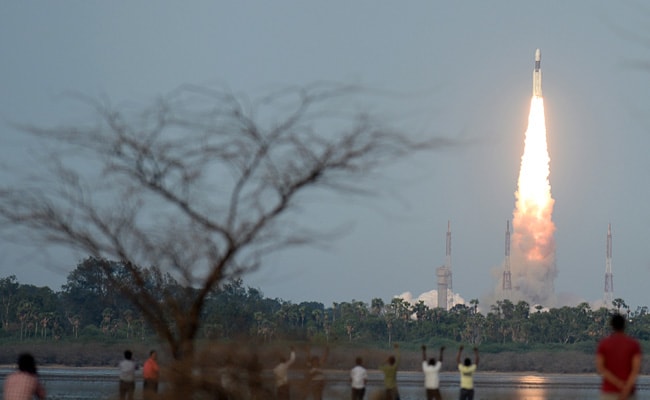 Highlights
New rocket can transport heavier satellites
Latest launch can improve telecommunications and internet services
India raised space program budget by over 20 per cent this year
India's space agency debuted a massive rocket on Monday, launching it from the southeastern barrier island of Sriharikota. The
Geosynchronous Satellite Launch Vehicle (GSLV Mk III)
will function mainly as a delivery system for heavier satellites, but the Indian Space Research Organization hopes that it can one day carry a manned mission - the country's first - beyond Earth's atmosphere.
The
launch
was a quarter-century in the making. Much of that time was spent painstakingly developing an indigenous, cryogenic engine that uses liquid oxygen and liquid hydrogen as propellants, said ISRO's chairman, A.S. Kiran Kumar.
GSLV Mk III's success is good news for ISRO, which hopes to build on a growing reputation in the $300 billion commercial satellite launching business. In February, ISRO made headlines when it launched a record-breaking 104 satellites into space atop just one rocket. But those satellites were minuscule compared with what the one launched Monday was carrying.
The new rocket will be able to transport heavier satellites that India had previously relied on France's space agency to carry. Monday's launch carried the nearly 7,000-pound GSAT-19 satellite, which has a 10-year life cycle and is meant to improve telecommunications and Internet services. The satellite detached from the rocket at just over 110 miles above sea level.
ISRO has become known for its low-cost missions. In 2014, India sent a probe into orbit around Mars at the jaw-droppingly low cost of $74 million. Prime Minister Narendra Modi noted at the time that the movie "Gravity" cost more to make.
Antrix, ISRO's commercial arm, has charged about $3 million to send a satellite into space in recent years, far less than private companies.
India increased the budget of its space program by more than 20 percent this year. On the books: a second mission to Mars and a possible Venus orbiter in cooperation with NASA.
Only American, Russian and Chinese rockets have carried humans into space to date.
(Except for the headline, this story has not been edited by NDTV staff and is published from a syndicated feed.)