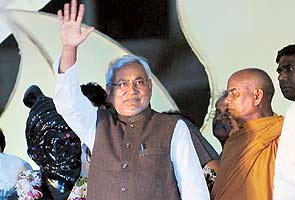 Patna:
Bihar Chief Minister Nitish Kumar has said that with per capita income being one third of the country and low developmental indices in all core sectors, the state would need at least 30 years to catch up with the national average and urged Prime Minister Manmohan Singh to grant special category status to the state to spur its growth.
The demand has been made by Mr Kumar through a letter written to the Prime Minister which he handed over to him during a meeting on December 6 in New Delhi, an official statement said in Patna today.
In his six-page letter, the CM contested a report of Inter-Ministerial Group (IMG) set up by the PM which suggested that Bihar's development deficit needed special resource support to overcome economic and infrastructural backwardness but rejected its plea for special status.
"As if with settled predilections and hurried consultations, the IMG came to the conclusion that Bihar does not have a hilly terrain or a sparse population to deserve a special category state status," Kumar wrote in the letter, a copy of which was made available to media today.
Contesting the report, he said, "This was somewhat ironical, if not contradictory, because on several key parameters particularly the proneness to natural disaster, high population density and being at the rock bottom of all developmental indicators should have led to the opposite conclusion."
Mr Kumar told Mr Singh that lakhs of people from every walk and segment had assembled in Patna on November 4 this year (in JD-U Adhikar rally) to take a collective pledge to continue their struggle till a special category status was accorded to the state.
Demanding policy frameworks for mainstreaming backward states like Bihar, Mr Kumar cited statistics to highlight poor developmental indicators of Bihar.
He said while the per capita income of non-special category states in 2009-10 was Rs 914, the share of Bihar was a meagre Rs 465. The same was Rs 1,715 in Punjab, Rs 1,640 in Haryana and Rs 1,274 in Tamil Nadu.
In addition, Bihar also has the lowest per capita spending on education, health, social and other economic services, he added.
Per capita development expenditure in Bihar is Rs 3600 compared to the national average of Rs 6,100.
Likewise, per capita net state domestic product of Bihar for 2011-12 at Rs 15,268 was well below the national average of Rs 38,005.
Bihar's industrial sector contributes only about 16 per cent to its gross state domestic product as against 26 per cent for the national average, he underlined in his letter.
Further, he said the per capita electricity consumption in Bihar stagnated at 122 units compared to the national average of 778 kWh, Mr Kumar said.
He demanded revision of Gadgil Formula for ensuring higher devolutions for a backward state like Bihar as on over-riding priority for inclusive growth as envisaged under the 12th Five Year plan.
Mr Kumar said the new Direct Tax Code (DTC) permit an industrially backward state to receive a tax holiday on private investments both for income tax, corporate tax and related minimum alternate tax.
Similarly, in respect of proposed tax on GST (Goods and Services taxes) he demanded to include an enabling provision which a state like Bihar can either have a tax abatement or if the continuing VAT chain is to be maintained a provision for refund of Excise and Customs duties to the manufacturing units or to the state for being passed to the companies.
He further said that Bihar was a land locked and least developed state hence it was a well-accepted international principle that such states require a differentiated criterion for devolution of resources enabling them to overcome these inherent disabilities.
Saying volatility in national growth statistics was due to excessive reliance on rates of growth by more developed states, he suggested incentivising backward and poorer states through suitable policy action for inclusive growth.
The Bihar CM reminded the PM that in accordance with the Bihar Reorganisation Act approved by Parliament, a Special Cell under the Deputy Chairman Planning Commission was expected to monitor and take necessary measures following partition of state between Bihar and Jharkhand.
"The cell should be activated and made functional so that based on their analysis and recommendation, the intention of the Reorganisation Act can be implemented," he said.