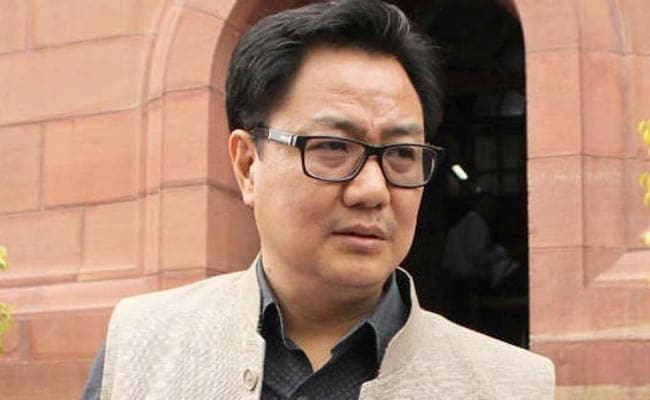 New Delhi:
Government has cracked down on a number of websites for spreading hatred and communal tension after the Dadri incident, resulting in a rise in the number of cyber crime cases registered, Lok Sabha was informed today.
Terrorist organisations like Al-Qaeeda, Hizbul Mujahdeen, ISIS and Boko Haram have been making use of the social media for recruitment, and to deal with the problem, the government will treat the issue effectively, Kiren Rijiju, Minister of State for Home Affairs, said during Question Hour.
"We have figures for the last three years. I agree and admit to the fact that there are many campaigns (on social media) to fan communal tensions and various other issues. The figure has rose in 2015, primarily because there were incident in which we could act. There was the Dadri incident, which happened. This was used to create hatred and divide. We cracked down on many portals. That is why the figure jumped," Mr Rijiju said in response to a question.
The Dadri incident involved the lynching of man over alleged rumours of beef-eating in Uttar Pradesh last year. The meat found at his home turned out to be mutton, as per forensic lab reports.
"Government is sensitive about the whole social media that is being used. Cyber crime is a bigger threat and we are ready to face it," Mr Rijiju said.
Admitting that the government is suffering from several challenges including lack of adequate trained manpower to deal with cyber security, the minister said it has taken several steps to deal with the problem.
The government has a crisis management plan to deal with any kind of emergency, he added.
In a statement that was laid on the table of the House, Minister of State for Home Hansraj Ahir said 5693 cyber security-related cases were registered across the country in 2013, 9622 in 2014 and 11,592 cases in 2015.
"Besides this, to sensitise the system we conduct cyber mock drills as well. There are various mechanisms in place. We have the Indian Computer Emergency Response Team (CERT-In) which looks into the matter," Mr Rijiju said.
Home Minister Rajnath Singh also said that the NDA government has taken prompt steps in dealing with the cyber security issue.
Mr Singh said the government has received the Gulshan Rai committee report on cyber security and is taking steps the strengthen the system. The panel was constituted in December 2014.
In response to a question on why the conviction rate was low in cyber security cases, Mr Singh said the government was working towards it and it will take some time.
Mr Rijiju said "we have challenges and we admit that there is a shortage of trained manpower to deal with this menace. However, we have been taking several steps to counter it."
"To strengthen the enforcement agencies, we have made provision to train 90,000 police personnel and 15,000 judicial in cyber security across the country," he said, adding that there were 36 cyber crime centres to deal with the problem.
Besides, a six-month certificate programme for 2000 officers, one-year diploma course for 500 officials and a very highly specialised MTech programme for 100 officials have also been started, Mr Rijiju added.