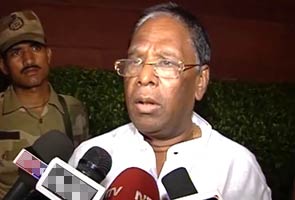 New Delhi:
The Government says it is working for a tough anti-corruption body through the Lokpal Bill. But it is now defending its action of shielding the Central Bureau of Investigation (CBI) from the Right to Information (RTI) Act. "The CBI is investigating various matters which involve national security. Therefore based on the opinion given to us by the Attorney General, we have done it (exempted the CBI)," V Narayanaswamy, Minister in the Prime Minister's Office, told NDTV on Monday.
The CBI has refused to make public, the information about disproportionate asset cases against government servants, including bureaucrats and ministers. The Centre, through a notification issued on June 9, had placed the agency in the organisations listed in the second schedule of Section 24 of the RTI Act, which also comprises intelligence and security agencies. "The Government of India...has placed the Central Bureau of Investigation at Serial Number 23 of the second schedule of the Right to Information Act, this act is not applicable to the Central Bureau of Investigation," CBI joint director Prabodh Kumar said in reply to an RTI application filed by activist SC Agarwal.
Mr Agrawal had filed four RTI applications, three months before CBI got exemption, seeking details of corruption cases accusing officials and ministers of amassing disproportionate assets. The questions asked by him pertained to recoveries done by the agency from the accused and fine slapped on corrupt officials on the orders of courts.
The Central Public Information Officer of the agency refused to provide information, saying it was "voluminous".
In his appeal before the Central Information Commission, Mr Agrawal pleaded that since his petition and first appeal were filed prior to date of notification exempting CBI, provisions of the said notification should not be applicable to his case. "Even otherwise, section 24 of RTI Act clearly stipulates that information pertaining to allegations of corruption and human rights violation shall be provided even if some organisations are placed in second schedule of RTI Act," Mr Agarwal said.
Former Chief Information Commissioner Wajahat Habibullah has criticised the CBI's stand. "Exempting CBI would amount to misapplication of Section 24 of the RTI Act much against the intention of Parliament, and militating against a primary objective of the Act, which as stated in the Objects and Reasons is 'to contain corruption'," Mr Habibullah said. The former Chief Information Commissioner who demitted office on September 30 last year said apprehensions cited in some quarters that through RTI Act CBI could be "compelled" to give sensitive information about probe cases, and reveal identity of crucial witness, are "mistaken" as section 8 of the RTI Act provides safeguards against such information.
CBI sources told PTI that the provisions of section 8 of the RTI Act, 2005 gives case-to-case basis of application of exemption. However, they said it is not possible to decide in such a fashion on secrecy of individual documents or pieces of information. "Seemingly innocuous or unobjectionable" pieces of information might seem harmless but when placed in conjunction with each other, the "mosaic of a dangerous picture" affecting the security of the nation can emerge, they said. (With PTI inputs)