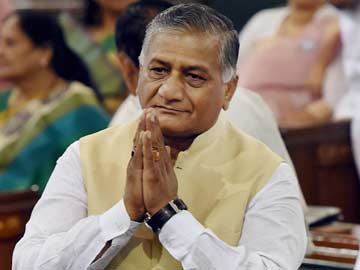 New Delhi:
The government faces the ignominy of a minister - former army chief General VK Singh - tweeting against the Army Chief-designate, linking him of supporting "dacoity" by an army unit that once worked under him. (
Controversy over New Army Chief: 10 Developments
)
The opposition Congress is demanding the resignation of General VK Singh because the government has in writing labelled as "illegal" his earlier attempts to stall the promotion of Lieutenant General Dalbir Singh Suhag, who is scheduled to take over as the Indian army's top man at the end of August.
His appointment was one of the last major decisions cleared by Prime Minister Manmohan Singh's government before it was trounced in the election by the BJP.
New Defence Minister Arun Jaitley says the appointment was rushed by a lameduck government but has since supported the move to make Lt General Suhag the next army chief.
But the issue is now riddled with controversy. In addition to General VK Singh's public criticism, senior officer Lt Gen Ravi Dastane's case against Lt Gen Dalbir Suhag (first filed in 2012) has reached the Supreme Court. In the petition, Gen Dastane has said that Lt General Suhag's selection as the new army chief smacks of "favouritism."
Refuting that stand, Prime Minister Narendra Modi's government has told the court that the action taken against Lt General Suhag by General VK Singh was "illegal" and incorrect - an opinion based on the conclusion reached by an extensive internal army inquiry. The Congress says that the government's comments, expressed in writing, amount to a "vote of no confidence" in General Singh who must now resign as minister.
But sources in the government say that the tenor and slant of its affidavit in the Supreme Court has to follow the line taken by the earlier UPA government in the armed forces tribunal where Gen Dastane had first filed his case since the litigation is a personal matter of the individual officer.
Yesterday, General VK Singh, who is now a minister of state in government, tweeted in reference to the man whose promotion he is opposing - "If unit kills innocents, does dacoity and then head of organization tries to protect them, should he not be blamed? Criminals should go free!!"
In May 2012, just before he retired as army chief, General Singh took disciplinary action against Lt General Suhag for a botched intelligence operation under his command in the north-east. General Singh tried unsuccessfully to block the promotion of Lt Genal Suhag as Eastern Army Commander, a move that placed the latter in line for the post of army chief.
Get Breaking news, live coverage, and Latest News from India and around the world on NDTV.com. Catch all the Live TV action on NDTV 24x7 and NDTV India. Like us on Facebook or follow us on Twitter and Instagram for latest news and live news updates.