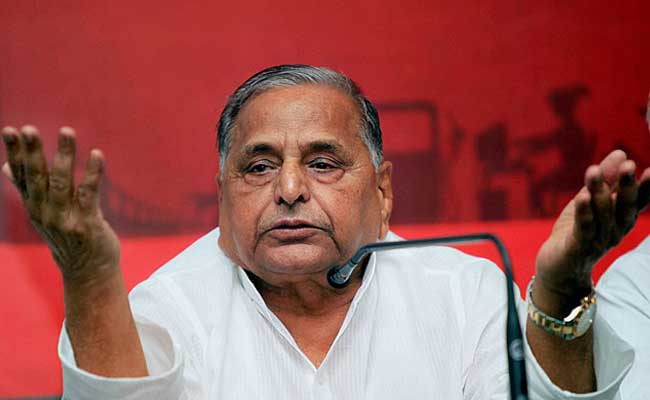 Lucknow:
Samajwadi Party patriarch Mulayam Singh Yadav today said that party leader Gayatri Prajapati, who is in jail over a rape case, is "innocent" and further alleged that the ex-minister is being treated like a "terrorist". Mr Yadav met Prajapati at a Lucknow jail today.
"There is no proof with the police against Prajapati," said Mr Yadav, a former Uttar Pradesh Chief Minister.
"A conspiracy is being hatched against him... He is innocent and is being meted treatment like terrorists," he added.
The seasoned leader also hit out at the BJP government and accused them of vendetta politics.
"The BJP government is following political vendetta. I will meet the Prime Minister and, if needed, the President to apprise them of the matter," he told reporters after the meeting.
Gayatri Prajapati, who was a minister in the Akhilesh Yadav-led Uttar Pradesh government, was arrested on a Supreme Court directive after an FIR was registered at Gautampalli police station in Lucknow on February 18 earlier this year. The complainant has accused Prajapati of raping her multiple times. She also said that the Samajwadi Party leader had also tried to molest her daughter.
A Protection of Children from Sexual Offences (POCSO) court will frame charges against Prajapati on July 3 and six others in the case, according to news agency PTI.
Mulayam Singh Yadav had visited the jail yesterday to meet Prajapati. However, he didn't get the required permission as it was an off, on occasion of Eid. Today, the Samajwadi Party patriarch spent over an hour with the former minister.
(with inputs from PTI)