Barwani, Madhya Pradesh:
The advancing floodwaters of Gujarat almost claimed another victim, but the rescue act by officials has caused more pain and dismay. This morning, the Gandhi Samadhi in Barwani, on the banks of Narmada in Madhya Pradesh, was found completely dismantled. The central raised platform was dug up by JCB machines. The marble plaque inscribed with "He Ram" - the Mahatma's last words - was laid aside. The three urns containing the ashes of the Mahatma, his wife Kasturba and secretary Mahadev Desai were missing.
As the locals, Gandhians and activists, including Medha Patkar who was leading an agitation nearby, rushed to the spot, the administration officials claimed the memorial was being "relocated" on the orders of the Supreme Court.
"The samadhi has to be relocated as the area faces the possibility of being submerged. We are following the orders of the Supreme Court," said Tejaswi Nayak, a district official. A committee had been formed to take care of all religious structures and following their recommendations, a grand new memorial to the Mahatma will be built in Kukri village, only 7 km away from the current spot.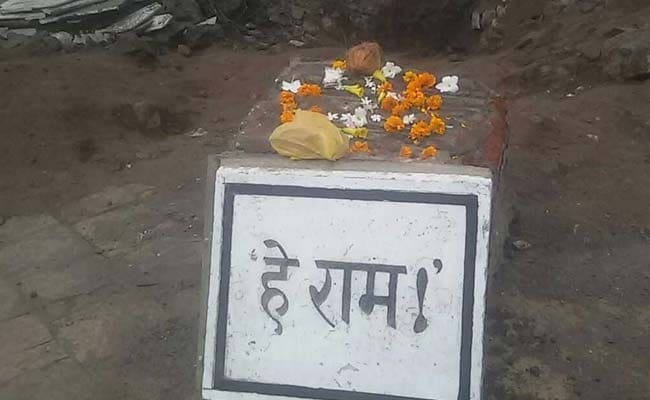 The activists allege that proper procedures for such relocation have been violated by the use of JCB machines - an allegation the officials have denied.
With the gates of Sardar Sarovar Dam in Gujarat closed last month, there are concerns that many areas in the four adjoining districts of Madhya Pradesh- Barwani, Khargone, Dhar and Alirajpur - will be submerged under Narmada waters and more than 40,000 families will be displaced. Gujarat has been battling floods for the last one week.
The Gandhi memorial was established in 1965 after noted Gandhian Kashinath Trivedi brought the ashes of Mahatma Gandhi, Baa and Mahadev Desai. This is the only spot in India that has the ashes of all three together. For millions who believe in the ideas of Gandhi, this is a place of pilgrimage. Many came here when Baba Amte spent more than 15 years here during his protest against the Narmada dam.