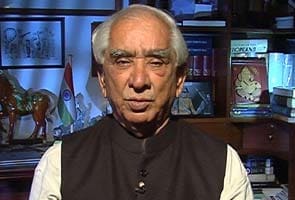 New Delhi:
Senior BJP leader Jaswant Singh breaks his silence on why BJP's agenda for the future is incomplete without a trip into the past. He speaks to NDTV's Sonia Singh.
Here's the full transcript of the interview:
NDTV:
As we speak we've seen two faces of the BJP. Rajnath at VHP
sants
meet at Ayodhya, Modi at SRCC. Which strands of the BJP do you support?
Jaswant Singh:
I think viewers clarify that quite often and also, the aspirations about having a temple at Ayodhya are aspirations that some hold committed. But India is committed to be a dynamic and forward-looking country. The two are not contradictory. In a sense they flow together and Rajnath Singhji, coming from UP, is a follower of the concepts of the Vishwa Parishad also.
NDTV:
Let me remind you what we said in 2009, an ideological confusion within the BJP. Jaswant said that 'the party actually needs to be a party of present time and develop more clarity on the 'Hindutva'. But there is a need for ideological distillation of thought. The BJP has to be a current party. It can't be a party of yesterday.
Jaswant Singh:
I don't only continue to stand by it, but I continue to hold that thought. The BJP has to reflect the future. It must think about the future and it cannot continue to hark back on yesterday's programme.
NDTV:
But specifically, doesn't this define BJP as a party of the past? What is the Hindutva you mean?
Jaswant Singh:
I understand, yes, indeed, but if you go into the philosophical analysis of Hindutva and what it is, then I will need a write a chapter on it. So lets leave that for a moment. But as far as Rajnathji's putting forward the Ayodhya programme as a priority of the BP in 2014, I doubt that he has done it. Besides we are NDA and ever since we became an alliance as NDA, I don't think Ayodhya is a part of BJP's electoral platform.
NDTV:
In that sense the BJP abandoned it a few elections ago. Do you think it needs to stay that away, not adopt it at this point, despite the pressure from the RSS, VHP?
Jaswant Singh:
No, I don't think that BJP should adopt this at the moment, if it has sufficient numbers in the Parliament then of course it can manage. Ayodhya is something that the two communities involved should sit together and resolve or the court has to resolve. There is no third way and I don't think that BJP needs it as a political platform to contest an election.
NDTV:
Are you disconcerted when you see the announcement of a temple as a political priority? Rajnath endorses it with his presence
Jaswant Singh:
No, I am not disconcerted because Shri Ashok Singhal has said it. It can hardly be expected for him to say anything else. It's his viewpoint.
NDTV:
But Sir, Rajnath saying here I need your blessings, isn't this a political endorsement by the BJP President
Jaswant Singh:
No that is a personal endorsement. Political endorsement comes when BJP and its election manifesto, as part of the NDA, to contest the elections. That's how I look at it.
NDTV:
The JDU says sadhus and sants can't decide the PM candidate. Yet we've seen VHP's implicit endorsement comparing Modi to Nehru. You've been concerned with the interplay of BJP-RSS for a while. Do you think this is more a key now?
Jaswant Singh:
No I think personally, and I can only express my personal views and I cannot be dishonest to my beliefs, Vishwa Hindu Parishad is fully entitled to its views, on faith, on aspects of religion, or it can even hold views about politics of the country, on even on political personalities. That's their right. It's their fundamental right. As to the BJP, whether to follow or to adhere, or to accept everything that the VHP says, that needs to be dealt with a great deal of caution and restraint.
NDTV:
In this election is the BJP going back to a more hardline Hindutva line?
Jaswant Singh:
No I don't think so. Because BJP continues to have valuable allies in the NDA and to have an NDA is an integrative approach. It's a question of bringing together diverse and immense qualities together and in that diverse society one has to find the HCF, the highest common factor, of equal and committed thought.
NDTV:
BJP leaders saying that Modi as Prime Minister; isn't that divisive?
Jaswant Singh:
I think it will be decidedly unwise of me to try and answer that leading provocative question for various reasons. Primarily the President of the Party has cautioned the members of the Party to stay away from this and I entirely agree, because it's premature and besides, he spelt out that these are individual judgments. It's a collective viewpoint that the Parliamentary Board of the BJP shall discuss at the appropriate moment. Why do we attempt to cross bridge points that haven't even come?
NDTV:
Do you agree with Yashwant Sinha, that you need a face for campaign elections, becoming more Presidential?
Jaswant Singh:
No I don't think so personally that India's presidential elections, to go down the route of what you term as presidential elections. We are a Parliamentary democracy, and if some how you convert it into a presidential election, all kinds of perversions would set in. Let us remain with the Constitution. Let us remain with the Parliamentary democracy and its demands. That's my viewpoint.
NDTV:
Watershed election of 2014, generational shift?
Jaswant Singh:
Indeed, indeed. Can I list out three or four points? You see in the past few months we have seen three people's movements that have assailed and have excited a great deal of thought. The first was of Anna Hazare, then of Ramdev on the Ram Leela ground and the third of the very tragic, or as the father the late girl says, the very courageous and horrifying event. People flooded the streets of Delhi. There is somewhere an angst; a fire, anger, the thirst. What is it about? It is centrally about change. Change from what? Change from governance that is failing and why it is failing, because we remain imperial in our attitude to the citizens. The moment a citizen uproots the State, the State stings the citizen. Why is it failing? Forgive me for putting it in these words; he was a great Indian, late Pandit Jawaharlal Nehru, but I have to subscribe to it, that 'the dangers of the problem will only be answered by he who has been in fear'. Thirdly please also reflect that the challenge to India is not only of security but also of democratic polity. We better all collectively reflect on this seriously and wake up. That is the central point of 2014. Not the point of x y z. I appeal to you and I appeal to the media. Forgive me for speaking the way I have. The issues are not the temple, the mandal, but the very fundamental issues.
NDTV:
The BJP of Atal Bihari Vajpayee, would you find yourself an outsider in the BJP.if it was headed by Narendra Modi?
Jaswant Singh:
No I won't ask that question as you have posed it Sonia, because that would again be unwise, and not adhering to the cautionary, that has been stated by the Party President. But let me share with you that political parties are not tailor made shirts. Your staff here is fixing the fold in my shirt, saying otherwise it looks untidy. But then that is who I am. You find an equation, a platform to suit the situation. Parties cannot be tailor made. Your own inner belief and the beliefs of the political party adhere and then come together. Will you find a total platform? Never. Who finds a total platform? Life is not like that, and certainly not politics, and certainly not politics of today
NDTV:
Those who have covered you know your personal discomfort with the events of 2002 and Mr Modi. Has that been forgotten?
Jaswant Singh:
No, please let's keep that separate. Let us stay away from that. These are my viewpoints. How can I give up my viewpoints?
NDTV:
What would you advise, anything to the BJP President and the PM candidate?
Jaswant Singh:
No, no, it wouldn't be in my place to advise anybody. I don't advise, but I certainly, but I certainly wish Rajnath Singhji great success and in his sucess is the success of the Party and I told him the same. And the BJP should be an accommodative and a forward-looking party; it cannot be a party of yesterday.
NDTV:
What you've just said, wouldn't it rule out Mr Modi as PM candidate, in the words of Mr Nitish?
Jaswant Singh:
No, I cannot comment on that. Please forgive me Sonia. I would like to stick to the cautionary.