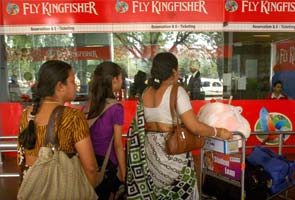 Mumbai:
State-owned Hindustan Petroleum Corp Ltd (HPCL) today resumed oil supplies to Kingfisher Airlines after the beleaguered airline agreed to pay for daily fuel off-take.
HPCL, which is Kingfisher's biggest aviation fuel supplier, had stopped the cash-strapped airline at around 18.00 hours yesterday. It decided to resume supplies after hectic negotiations, a senior company official said.
"There is a certain financial discipline we have been following for past two years. And when some payments got delayed without any explanation, we had no option but to stop supplies," he said.
The two companies had hectic parleys through the night.
"Even as we were talking, we decided to selectively refuel Kingfisher flights. So between 9 and 10 pm yesterday, HPCL refuelled their Mumbai-Hong Kong, Mumbai-Delhi and some other flights," he said.
"We first cut supplies to Kingfisher for a couple of hours earlier this month. But it didn't help and we had to snap supplies," the HPCL official said. "Full supplies have resumed early today."
According to Mumbai International Airport Limited (MIAL), Kingfisher flights are taking off with slight delays. Yesterday, a number of passengers were left stranded at the Mumbai and Delhi airports after Hindustan Petroleum and other state-owned oil companies stopped supply of jet fuel to the airline.
Kingfisher is operating on a 'cash and carry' basis by oil companies. This means, the company has to pay an upfront amount to get fuel each day. Kingfisher owes Rs 200 crore to oil companies.
The cancellation of flights had led to commotion outside the airline's counters at the Mumbai and Delhi airports.
A passenger at the Mumbai airport told NDTV, "We had to board a flight at 8:45 pm. First they said, it will leave at 9:15 pm and now they say the flight will not go."
Earlier in the day, the International Air Transport Association (IATA) suspended Kingfisher from its clearing house due to non-payment of dues, a spokesman for the industry body of global airlines said.
An international airline like Kingfisher everyday uses different service providers who help with catering, passenger handling and cargo clearance. Airlines would have to pay multiple vendors in different currencies. IATA's clearing house becomes the middleman providing what it describes on its website as "on-time settling of interline accounts between the world's airlines, airline-associated companies and Travel Partners."
Without that assistance, Kingfisher will have to settle its bills directly with vendors -a logistical nightmare for the carrier, and an unappealing prospect for vendors, given the airline's current financial crisis.
Kingfisher will also have to coordinate directly with partner airlines. So if Kingfisher is flying a passenger to one stop, and using a partner for another leg of the journey, it will have to pay the airline directly, rather than being able to use IATA to handle that.
Income Tax authorities in Bangalore also issued show-cause notices to top officials of the airline yesterday seeking an explanation on non-payment of TDS, sources told NDTV Profit. The tax department had earlier frozen the airline's bank accounts.
Kingfisher's mounting debt has turned into an international headline.
Kingfisher, which suffered a loss of Rs. 1,027 crore in 2010-11 and has a debt of Rs. 7,057 crore, posted a Rs. 444 crore loss in the third quarter of this fiscal. The government has said repeatedly that it will not bailout Kingfisher Airlines.
Kingfisher Airlines submitted a revised schedule of its flights on February 22 based on its current flying capacity. It has scaled down its operations to about 170 flights daily. Only 28 of Kingfisher's 64 planes are currently in use.