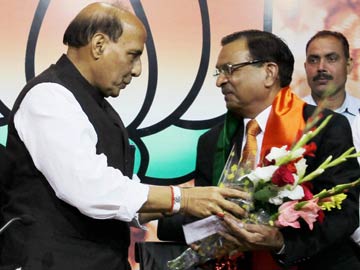 New Delhi:
Former Research and Analysis Wing (RAW) chief Sanjeev Tripathi today joined the Bhartiya Janata Party (BJP) ahead of the Lok Sabha elections, following the footsteps of several retired bureaucrats and diplomats finding a career in politics.
Mr Tripathi, a 1972-batch IPS officer, is the latest to join the saffron party in the recent past after former Home Secretary R K Singh, former Petroleum Secretary R S Pandey and India's former permanent representative at the UN Hardeep Singh Puri.
Welcoming the retired IPS officer into the party fold, BJP chief Rajnath Singh said, "He feels there should be a change in the country and wants to work for this change by joining the BJP."
He said Mr Tripathi, who has recently retired, will help contribute in bringing about this change and the party will benefit from his experience.
Mr Tripathi, who was the chief of the RAW from December 30, 2010 to December 29, 2012, hails from Bareilly in Uttar Pradesh.
After working in Uttar Pradesh for a few years, he joined the Centre as an intelligence officer. Incidentally, his father-in-law G S Bajpai was also the chief in RAW.
Mr Tripathi is keen to contest the upcoming Lok Sabha elections.
"I have been thinking for the past one year on how to utilise my experience in nation building. Our country is passing through a very critical stage especially in areas of national security and economic development.
"Our nation needs a stable, strong and decisive government and instability of any kind will not just be harmful for the economic development but will come to the aid of such forces who want to destabilise the country," he said.
Mr Tripathi said he feels only BJP can give a strong and good government. "I fully agree with its agenda of good governance," he said.
Mr Tripathi has worked on tracking of Sikh militants operating from abroad, besides on Pakistan and Bangladesh. He has also worked on tracking insurgency in the North-Eastern states and also on the sensitive Tibet issue.
Former Home Secretary R K Singh had joined the BJP on December 13 along with Sunil Shastri, son of former prime minister Lal Bahadur Shastri, former petroleum secretary R S Pandey and retired Railways official Dharam Singh. Mr Puri joined the BJP on January 2 this year.