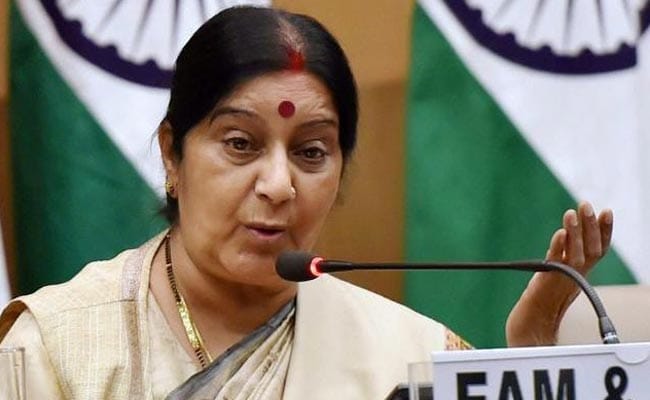 Highlights
Congress attacks Foreign Minister over killing of Indians by ISIS in Iraq
Congress put out Twitter poll on whether it was her "worst failure"
The foreign minister's comeback - retweeting the poll - amused many
New Delhi:
Sushma Swaraj has re-tweeted a Congress post. Not just any post, but one that invites people to assess her "failure" as a Foreign Minister in handling the case of 39 missing
Indians killed in Iraq
. The opposition party has been targeting Ms Swaraj since
she confirmed in parliament
last week that the Indians had been killed by the ISIS.
The Congress put out a poll yesterday on whether it was the minister's "worst failure".
Do you think the death of 39 Indians in Iraq is Sushma Swaraj's biggest failure as Foreign Minister? #IndiaSpeaks

- Congress (@INCIndia) March 26, 2018
The Congress post has been liked by over 1,500 and shared by nearly 2500. With 24 minutes left in the poll, the Congress had received over 29,000 votes. Unfortunately for the party, the verdict is less ayes than noes.
It is a Congress self-goal, said many in their comments. So far, Ms Swaraj seems to have got a vast approval rating of 76 per cent.
The foreign minister's comeback - retweeting the poll - amused many, especially her fan following on Twitter.
In the Congress govt, they did many mistakes and scams.
How would you treated this mistake as a @SushmaSwaraj mistake. Madem is Indians chinnamma.

- Prudhivi Anand🔴🚩 (@Prudhivi_Anand) March 27, 2018
No wonder if @INCIndia delete this Tweet after @SushmaSwaraj ji retweeted
👍 pic.twitter.com/lKerZn0SpZ

- 🇮🇳Purvaj Sheth (@purvajsheth) March 27, 2018
This happens when you are true to your work......@SushmaSwarajpic.twitter.com/QzNYKLBhk9

- Shubham Pandey (@pandeyjiki_suno) March 27, 2018
Today I think @INCIndia handler would be on seventh heaven as @SushmaSwaraj mam RTed their poll... 😁😁😁
A cue to booth capture for all!

- Chhabi (@Chhabiy) March 27, 2018
@INCIndia abe kitne self goal karoge bey?? 😂😂😂
Sushma Swaraj is retweeting 😁😁😁@RahulGandhi bas karne ko bol de bhai, nai to aap offline, ye online, kahin ke nahi rahoge saab! pic.twitter.com/ku5VJbO20S

- Kaamkaaji Berozgaar (@krish_deep) March 27, 2018
One tweet pointed out the catch in the poll question.
The question is interesting..
"Doesn't the NO votes mean that there is another failure of Sushma Swaraj as Foreign Minister which is bigger than this failure?"https://t.co/DYOdeEmauT

- Lie, PMs way of life (@MrRightCenter) March 27, 2018
A week ago, the foreign minister declared in parliament that the Indian workers, missing since 2014, had been confirmed dead after DNA tests on remains found buried underneath a mound in Mosul, Iraq's second largest city.
Till last year, Ms Swaraj had insisted that the Indians would be presumed alive until there was evidence to the contrary. The Congress, referring to six such statements by the government, accused her of misleading the house and the families of the workers. The party also decided to push a motion for breach of privilege.