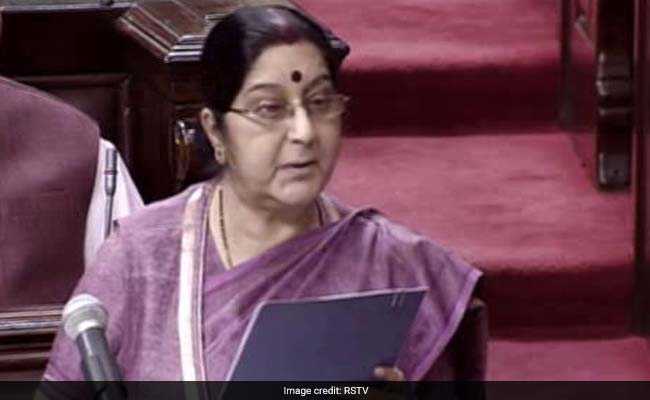 New Delhi:
All the 39 Indians, who were abducted by ISIS in Iraq nearly three years back, were killed and their bodies have been recovered, External Affairs Minister Sushma Swaraj said on Tuesday. As many as 40 Indians were originally abducted by terrorist organisation ISIS in June 2015 from Mosul in Iraq but one of them escaped by posing as a Muslim from Bangladesh, Ms Swaraj said in statement in Rajya Sabha.
Here is the full text of Sushma Swaraj's statement in Parliament about 39 Indians killed by ISIS in Iraq:
Chairman, sir, with your permission, I have some very important information to share with the House. We are all aware that in June 2015, 39 fellow Indians had been captured and held captive by ISIS terrorists in Iraq. This matter has been discussed many times in the House since then. The last time we had a discussion on this was on July 27, 2017. On that day, Mr Bajwa had raised the issue during the Zero Hour, and the very next day, I had come to the Rajya Sabha to address the House on this issue. On that day, I had said something which, with your permission, I would like to read out again today. I had said, "Till such time that I do not have any concrete evidence of them being dead, I will not declare them so. I will not pronounce them dead." Deputy chairman PJ Kurien was presiding the House at that time. I had said, "Deputy Chairman, sir, without having any evidence, for me to say 'they are dead' would be a sin, and very irresponsible on my government's behalf. I would, therefore, not like to commit either a sin or be irresponsible. But the day I get a shred of evidence, and that too strong evidence, then without further delay, if Parliament is in function, then with the Chair's permission, request the proceedings to be halted, I would appraise the House and the nation about the information that I have. And if Parliament is not functioning at the time, then within ten minutes, I would release my statement on Twitter for the entire country to be made aware of the situation." Today, I am here to fulfil my promise.
Today, I have concrete evidence about both issues. First, that Harjit Masih's story was not true, and second, I say this with a heavy heart, that those captured have been killed. I would like to keep the evidence of both these in front of you. Harjit Masih was not telling the truth. I back this statement with the evidence that the last time when General (retd) VK Singh went to Iraq to find him, I had told him that the first thing you must do is to go and meet the owner of the company in Mosul. That is where you will get some crucial leads and information. As instructed, he started his visit to Iraq from Mosul, where he went and first met the owner of the company. When he spoke to him, the owner of the company told him what had happened. The owner of the company told Mr Singh that 40 Indians and some Bangladeshis used to work for him. He said, "When we saw that ISIS had started taking over Mosul, I told all my employees to leave as soon as possible. Iraqi nationals were the first to leave. This was followed by nationals of other countries, but the Indians and Bangladeshis did not leave." He went on to say that after that he had called a caterer who used to provide food for his employees. The caterer said that one day, when the Bangladeshis and Indians were on their way to eat food at his place, ISIS terrorists saw them and questioned, "Who are you people?" To this, one of them replied, "These are Indians and we are Bangladeshis." After hearing this they (ISIS terrorists) said that these people will not stay here anymore. They ordered that the men be taken to a textile factory, which was under ISIS control. When they reached the textile factory, they ordered that the Bangladeshis and Indians be kept separately. Then, one day, the ISIS terrorists said that the Bangladeshis be taken and dropped in Erbil. The caterer said that this task was assigned to him, and he got ready to take the Bangladeshis to Erbil in his van. That night, what methods Harjit took to escape, he knows; I believe that he (Harjit) told the owner of the company to give him a Muslim name and send him off with the Bangladeshis. The owner of the company said that he had received a phone call from someone named Ali. To this he replied that I do not have any employee who has the name Ali. To this the caller replied, "I am the person who has to be sent away with the Bangladeshis." To this he said "ok, ok." The caterer has confirmed that he dropped Harjit Masih under the alias 'Ali' along with the Bangladeshis in Erbil.
Chairman, sir, I too first received the first phone call from Harjit Masih from Erbil. The first time when he spoke with me, I asked him, "How have you reached Erbil?" He was speaking in Punjabi. So, I asked him the same question in Punjabi. He replied "Mainu nahi pata" (I do not know). To this I said, "How is that possible that you do not know? You are speaking with me, and I see you are talking to me from Erbil. So, please tell me." He just replied (in Punjabi), "Nahin aunty ji, tussi mainu kadd lo" (No aunty, just take me out of here). I told him, "Son, I will definitely get you out of there, but please tell me how you managed to reach Erbil?" He again replied "Ay mainu nahin pata" (This I do not know). I asked him at least three or four times, but he kept saying "I do not know". Later, we see that he planted stories about how they were taken to a jungle and made to stand in one line. He goes on to say that 39 people got shot in the head, and only I was shot in the leg, so I managed to escape from there. This was all a cock and bull story. Harjit Masih's story is not true. He had already escaped in the caterer's van using the name Ali much earlier. This, Chairman sir, is Harjit's real story.
When the ISIS terrorists saw the next day that they (the Indians) are only 39 in number, instead of 40 - since they did a headcount every night before going to sleep - the ISIS terrorists took a decision that it was not safe to keep the Indians at that location anymore. They ordered an ISIS 'commander' to take the captive Indians to Badush. The owner of the company said that "after that I do not know what happened to them." He said that ISIS had control of a prison in Badush, but he does not know if the Indians were kept in that prison or were killed. The owner of the company said that once the Indians were taken from Mosul, he was no longer in touch with them.
But based on that information, General VK Singh followed up with our Ambassador in Iraq - Pradeep Rajpurohit and an officer of the Iraqi government, who was assigned to the case. It just so happened, that the last time I made a statement about this in Parliament, the Foreign Minister of Iraq was in New Delhi, and during our bilateral talks, I had requested that during General VK Singh's visit, an official of the Government of Iraq be there with him, so that the process of finding the Indians being held captive by ISIS becomes somewhat simpler. The minister had assured me that there will be one official assigned to General Singh when he visits Iraq. These three men - General VK Singh, Ambassador Pradeep Rajpurohit, and the Iraqi official then left for Badush. When they were asking and looking for the Indians in Badush, a local resident said that there is a mound in a distant village, where lots of people have been buried together in a mass grave. He told the three men to go look there. When they reached the mound, they could not see anything from the outside. So, they got in touch with Iraqi authorities and requested for a 'Deep Penetration Radar'. He (General Singh) asked the authorities to use the deep penetration radar right till the bottom of the mound and asked what they saw. They could see bodies at the bottom of the mound. After this General VK Singh asked the authorities to dig up the mound and exhume the bodies.
Chairman sir, the entire mound was dug up, and bodies exhumed. From the bodies, few things were noticed. One was that there was long hair, a 'Kada' (religious ornament) was found, and so were a few ID cards. Some shoes were also found that were not Iraqi shoes. After this all the mortal remains that were exhumed from the mound in Badush were sent to Baghdad. Before this, since it had already been around 20-22 days since they (the Indians) were taken away from Mosul, and no calls were received either, the hope for their survival was fast diminishing; And now we were searching for our countrymen among the bodies of those killed.
There were mass graves there. There was a "Martyr's Foundation' in Iraq which was detailing recording the mass graves. We got in touch with them and requested them to search for the bodies of the Indians too. They told us that if we could provide them with the DNA samples of a direct blood relative, preferably of the parents of those missing, then we would be able to find them if their bodies were here. We then collected the DNA samples from the families. The governments of four states - Punjab, Himachal Pradesh, West Bengal, and Bihar - were involved in the process. We coordinated with the four state governments, collected their DNA samples and sent it to Iraq.
When we sent the exhumed bodies to Baghdad, we requested them through our Ambassador to give this (our request) the topmost priority. We told them that we feel these are our people based on the kind of bodies we found there and the items we found at the site. We are thankful to 'Martyr's Foundation' for accepting our urgent request. They then started doing the DNA tests. The first DNA sample that matched with one of the bodies was that of a boy named Sandeep. The moment they confirmed the first DNA match, we understood. The number of bodies found were also 39. It all added up. After that, all the samples started matching one after another. They kept confirming to us "We have five matches today; eight today; ten today and so on." Yesterday, they confirmed to us that the DNA samples of 38 of the 39 people matched, while that of one matched only 70 per cent because the sample was not directly that of his parents, but of a relative. They said that they are not ending the process yet and will check again because his DNA was taken from his bone, which is a very complex procedure. At 1:30 pm IST today (Tuesday) the head of Martyr's Foundation will be holding a press conference about the 39 bodies sent to them by the Government of India. She will also give the details of the procedures they followed during the DNA testing and give an update that the DNA testing for the 39th body is being undertaken.
Like I said at the start, I have evidence of both - Harjit Masih escaping under the alias 'Ali' as confirmed by the owner of the company in which he worked, as well as the DNA matches of the 39 Indians who were held captive and then killed by ISIS terrorists. There can be no bigger evidence than DNA matching.
Chairman sir, I would like to inform you that this entire process has been very complex, extremely difficult, and sad. We faced many hurdles - such a big country, endless deserts, and ISIS terrorists. When the area was freed from ISIS-control, all that one found were mounds of bodies. To be able to find and identify the bodies of our citizens through all that, I would like to thank and extend my appreciation to my colleague General VK Singh for everything he's done for this case. No matter how much I thank him, it will not be enough for the effort he has put into this exercise. He crossed every hurdle in his way, he endured all the difficulties that came along and the three men even went so much as to sleep on the floor in a small hut of a remote village just to see that the work was done. They faced many problems, but went till the very end to find our people. It is thanks to him that we have got the evidence and can now bring back the mortal remains of those killed. I would also like to thank the Government of Iraq, which accepted our request and helped us by sending an official dedicated to the case, without whom we would probably been searching one mass grave after another. Chairman sir, who helps so much as to use deep penetration radars to search till the bottom of a mound, then help dig the entire mound up and exhume all the bodies in it, and finally send all the bodies to Baghdad hundreds of kilometres away for DNA testing. I would also like to thank Martyr's foundation, who not only accepted our request, but gave it priority and are also organising a press conference to give details of the tests. I would also like to extend my gratitude to the Prime Minister, who for three years, patiently kept this process going. He supported me the entire way and gave me the courage to pursue this exercise. He encouraged me to keep the process going at every step of the way.
We are not stopping the process with this statement. I have already told our Ambassador in Iraq to start the process to bring back the mortal remains to India. General VK Singh will go to Iraq to bring back the mortal remains along with the certificates of their DNA match. Not just their names and passport numbers, but full report of their DNA match confirming their identity will also be brought back with the coffins. On the way back, the plane will first land in Amritsar where the remains of 31 of those killed in Iraq, who belong to Punjab and 4 who belong to Himachal Pradesh, will be handed over. Then from there, the same plane will go to Patna, where the families will be given the bodies. And from there, the plane will go to Kolkata .
Chairman sir, it is said that we come to terms with those who have passed, but we keep our hopes alive for those who are missing. If these people were not found and were in the missing category, like they were till now, their families would never be able to come to terms with it. There could not have been a closure. But now, when they collect the remains of their loved ones, though it would be heart-breaking, at least they would get closure. I would like to request all members of the House to stand in silence and pay their respects to the fellow Indians killed in Iraq.