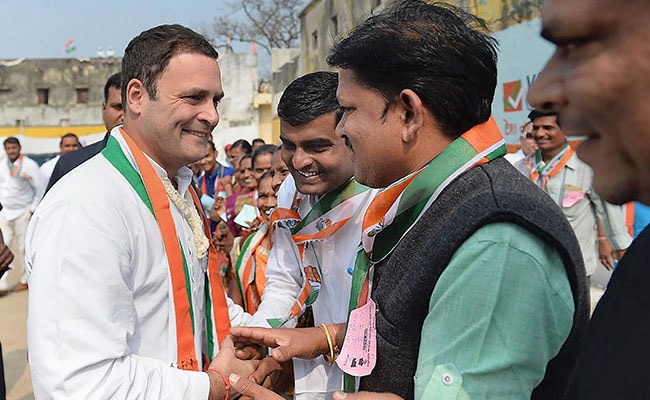 Highlights
Congress president to track results after morning workout: party sources
Mr Gandhi also hosted dinner for senior party leaders on Sunday: sources
After briefly running neck and neck, Congress now trailing in both states
New Delhi:
Rahul Gandhi, who took over as Congress president on Saturday, would get down to tracking his party's progress after a good early morning workout, party sources said today as votes were counted for the
Gujarat and Himachal Pradesh election
.
Members of Mr Gandhi's team said he held a late night meeting till 1 am. This was after the 47-year-old hosted dinner for senior leaders including party MPs, marking his promotion as party boss.
By the time he does tune in, enough leads will have emerged to predict the winner in the crucial states.
An hour into counting, it was a close fight in Gujarat
. The Congress, trailing in early leads, appeared to be catching up fast and closing in.
Mr Gandhi's aides said before commenting, he "usually consults with sister before he publicly appears to comment on the elections."
In Himachal Pradesh
, the BJP is ahead in seven seats compared to the Congress party's two.
Against all predictions, the Congress is hoping that Mr Gandhi's high-voltage campaign will pay out in Gujarat - Prime Minister Narendra Modi's home state - where the BJP has been ruling for 22 years.
Late last evening, the Election Commission withdrew its notice to Mr Gandhi over a television interview aired after campaigning had ended in Gujarat last week. The BJP had alleged that Mr Gandhi's interview ahead of the second round of the Gujarat vote violated election rules.