Patna:
Bihar Deputy Chief Minister Sushil Modi's son's star-studded wedding in Patna on Sunday featured an array of political leaders -- and messages. When Finance Minister Arun Jaitley, one of the guests, was seen off at the airport by Chief Minister Nitish Kumar, it pinged many radars.
In Patna, Mr Jaitley first drove to the home of a Janata Dal (United) leader, Sanjay Jha, believed to be an old associate. A cup of tea later, Mr Jaitley drove to the Veterinary College, the wedding venue, where he stayed seated with Nitish Kumar.
When the ceremony ended, Mr Jaitley rushed to the airport and Nitish Kumar arrived within seconds. Other BJP leaders like Ananth Kumar and Haryana Chief Minister Manoharlal Khattar also joined in. The little group chatted for almost half an hour over -- again, tea -- say sources.
Mr Jaitley is known to be the architect of the
BJP's resurrected alliance with Nitish Kumar
, who had ended the 17-year-old partnership in 2013 over the BJP's decision to elevate Narendra Modi.
The Finance Minister hosted Nitish Kumar at his Delhi home even when he was in the "
mahagatbandhan
" or grand alliance with Lalu Yadav and the Congress.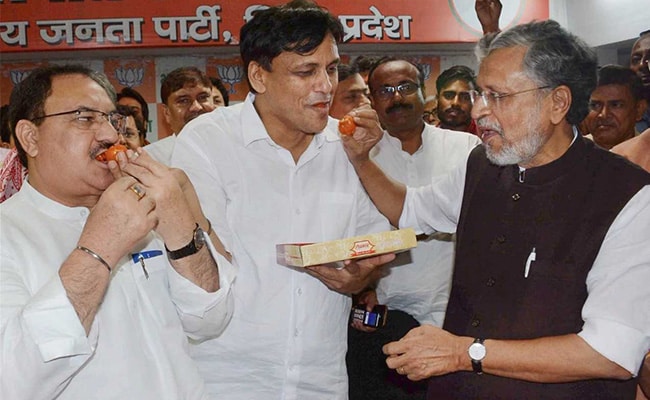 It was at Mr Jaitley's office last year that Lalu Yadav, along with his party lawmaker Prem Gupta, allegedly lobbied for some reprieve in corruption investigations. Mr Gupta then famously remarked, "
Aap hamari madad karo hum Nitish ka 24 ghante mein ilaj kar denge
(you help us and we will tackle Nitish Kumar within 24 hours)."
When this conversation travelled to Nitish Kumar, it virtually set in motion the end of the
mahagathbandhan
and a new alliance with the BJP.
Nitish Kumar seeing off Arun Jaitley at the airport mirrored what he did in 2013 for then Finance Minister P Chidambaram; the Chief Minister dropped him off at the Congress headquarters in Patna, Sadaquat ashram.
Much has changed since then. Citing corruption, Nitish Kumar dramatically ended his party's coalition with Lalu Yadav and the Congress in July and revived ties with the BJP.
Nitish Kumar and Lalu Yadav, both at the wedding around the same time, didn't greet each other at all.
Lalu Yadav sat some distance away
with two former Chief Ministers, Jagannath Mishra and Jitan Ram Manjhi.
Giving company to the RJD chief was union minister Giriraj Singh of the BJP.