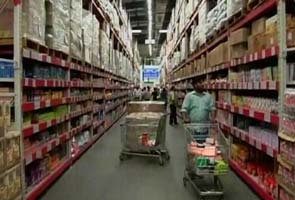 Zirakpur:
As the political storm over Foreign Direct Investment (FDI) in multi-brand retail continues to rage, it is business as usual at a Bharti Walmart store in Zirakpur in Punjab. While most detractors of FDI would see red over the mention of Walmart - the American MNC is one of the few global retail giants that will now be able to set up shop in the country in partnership with an Indian entity - the store itself continues to do brisk business.
Spread over 53,000 square feet, the outlet sells more than 5,000 products every day, catering to hundreds of customers. It is primarily meant for retailers but also entertains small consumers - with most swearing by it as a one-stop shop for all their buys.
"Here there are different brands and we get everything packed and it's fresh," says Piyush, a customer.
What's more, the franchise, working under the name Best Price, continues to thrive in the state. Having opened their first store in the state three years back, Bharti Walmart now boasts of five outlets in Punjab - Amritsar, Bathinda, Jalandhar, Ludhiana and Zirakpur. Catering to 5,000 customers daily, the franchises together have an annual estimated turnover of Rs 100 crore.
Farmers in the state, too, have given their thumbs up to this retail arrangement involving FDI. But they have a word of caution - they want the government to ensure that the big players do not end up dictating terms.
"They will buy and sell at the price they like...but the good thing is that huge investment will bring development," says Mohinder Singh, a farmer.
Though proponents of organized retail claim that the new policy will enable farmers to market their produce better - global chains will buy directly from the farmer, thus shunting out middlemen - small retailers continue to be sceptical. Opponents of FDI have argued that the entry of MNCs will sound the death-knell for small traders. The trends in the last few years in the state may have reinforced these fears.
Four years ago, there were over a dozen retail outlets in Mohali like Subhiksha and 6-Ten, which have now shut shop. The stores faced stiff competition from the neighbourhood
kirana
stores in these years.
Now, as per industry estimates, big retail groups like Reliance Fresh, Big Bazaar, Easy Day have an eight to 10 percent retail share in Punjab.
But local
kirana
shops aren't particularly rattled by the presence of these big chains.
"Initially customers will go there but later they will come back to us...We also offer home delivery and give other benefits to customers," says Raj Kumar, a kirana shop retailer.
Some locals also agree with him. "Here we get personalised service...Also if we don't have money, we can buy now and pay later," Govind Singh, a customer, says.
While a few may have certain concerns, most do not view the entry of global chains as a threat or loss. The UPA government, which was plunged into a political crisis following its nod to 51% FDI in multi-brand retail, has been saying that fears over the policy are misplaced. While the debate over the controversial reform is likely to continue, the customers, as the model in Punjab suggests, aren't complaining.