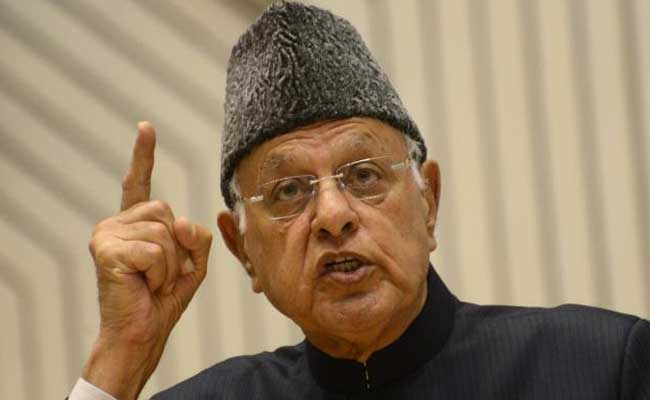 Jammu:
With uncertainty looming large over the continuance of PDP-BJP alliance, National Conference (NC) leader Farooq Abdullah today said his party may consider a tie-up with the BJP for government formation if such an offer is received.
"If such a proposal comes, then NC will call a Working Committee (meeting) and debate over it. If such a situation arises, NC can think over it as we have not closed the doors. Our doors are open," he told reporters in Jammu when asked to spell out his party's stand if it gets a proposal from BJP for forming a coalition government in the state which is under Governor's rule.
In the 87-member Assembly, BJP has 25 legislators while NC has 15 legislators.
His comments came as uncertainty prevailed over the fate of PDP-BJP coalition which ran government headed by Mufti Mohammad Sayeed for 10 months before his sudden death on January 7.
With regard to the ongoing political uncertainty in the state, the NC patron and former chief minister blamed 27-member PDP for it.
"Uncertainty has been created by PDP as BJP is ready to form the government and God knows what PDP is thinking, I hope they end this and the government would continue," he said.
Mr Abdullah, whose party had earlier been a part of NDA, said NC never shies away from playing its role.
"NC never shies away from its role. In 1996 when nobody was ready for election, we came forward," the former chief minister said.
"I again say that uncertainty is not good for the state and the situation would benefit our enemies," he said.
Mr Abdullah said it was Mr Sayeed who had forged the alliance between the two parties and it was the responsibility of his daughter and PDP chief Mehbooba Mufti to take their friendship ahead.
"But we have to first see that the friendship that existed should move forward. What is the benefit of such a friendship," the NC patron said.
He said PDP and BJP should form the government at the earliest to end the political uncertainty in the state.
"They (PDP and BJP) should reduce their differences and take the state out of uncertainty," he said while talking to reporters on the sidelines of a function in Katra town of Reasi district.
"I think they should quickly form a government because the state cannot afford instability," Mr Abdullah told reporters on the sidelines of a book release function in Jammu in the evening.
He said the coalition partner PDP and BJP must take the decision at an earliest as the people of the state should not be left to suffer.
"Whatever they (PDP and BJP) do, they must do it now and must not wait. I think that is more important now it is the people that matter and people want solutions to their problems and that is what they (both the parties) should focus," he said.