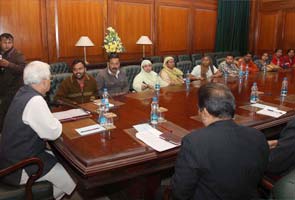 New Delhi:
The government today assured protesting family members of 17 sailors, who are being held hostage by Somali pirates for the past nine months, that it would continue its efforts to ensure their release.
External Affairs Minister Salman Khurshid said he hopes for the best for the sailors. "Without showing any chinks in our armour and I have said to them that they can communicate with me. I can hope for the best. I can continue my efforts to ensure that sailors there get released from the custody of people who have taken them hostage," he said.
Mr Khurshid's reaction came as the family members held a protest outside the Shipping Ministry in Parliament Street in the national capital today. They demanded immediate release of the sailors, who have been held captive by pirates of the Gulf of Aden, between Yemen and Somalia.
The families of 17 sailors trapped on one such vessel - MT Royal Grace - gathered in Delhi in a desperate bid to get a hearing from officials.
It was hours of waiting on the footpath outside the shipping ministry, prompted by a looming deadline that the pirates have set: a ransom of 2 million dollars by the end of this month or the hostages won't be spared.
MV Royal Grace was hijacked on March 17. Mehtab, the mother of a 25-year-old sailor from Allahabad, says: "We have being trying to meet officials for the past six months, but have only got assurances so far."
She says the families knocked on every possible door from where help could have come. "We even went to the offices of the Prime Minister, Sonia Gandhi and Rahul Gandhi. Our petition was accepted. We were assured of an audience with government officials, but that never happened," she says.
"I am losing all hope of being able to see my son again," says Mehtab, sobbing uncontrollably.
Union Shipping Minister GK Vasan today said the government was working with the external affairs ministry, intelligence and other agencies to get the sailors freed. "Of the 200 people taken hostage in the last five years, 160 have been rescued. We are concerned (about the hostages)," he said.
The assurance may help calm down Sushil Kumarfrom Meerut, Uttar Pradesh. In January, he was a proud man whose 23-year-old brother Saurav had got his first job as a deck cadet on MT Royal Grace.
Everything changed with a phone call in May. "He had just joined his first job. We didn't get any information for a long time. We tried asking around. Finally he called on May 10 and informed the ship had been hijacked," says Mr Kumar.
With everything at stake now, the families say they're determined to stay put in Delhi until the government acts.
Fifteen of the 43 abducted sailors have been held hostage for over two years now. Their ships were hijacked in 2010: MV Iceberg on March 16, MT Asphalt Venture on September 7 and MV Albedo on November 2.
This year, two ships were hijacked - MV Royal Grace on March 17 and MT Smyrni on May 11 - and 28 sailors taken hostage.
(With inputs from PTI)