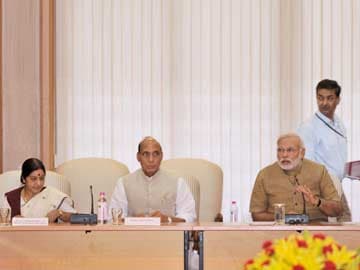 New Delhi:
Amid his thrust on good governance, delivery and implementation of programmes, Prime Minister Narendra Modi on Monday held a marathon meeting with his entire 45-member Council of Ministers to emphasise these aspects.
In the meeting that lasted for more than three hours, Mr Modi asked his ministers to engage good people in offices and not family members.
He is also believed to have shared his ideas on how to boost the economy, attract greater investment and improve infrastructure.
According to sources several ministers provided inputs and suggestions for the President's address, that enlists the priorities of a government, to the joint session of two houses. The first session of the 16th Lok Sabha will commence from June 4.
The Prime Minister also sought suggestions on ways to improve governance. He is reported to have suggested to ministers to be extremely cautious, advising them to deal with unknown people with caution.
Mr Modi also asked them to reduce expenses of their ministries and even ask them to use office vehicles for official work.
The meeting took place against the backdrop of Mr Modi's 10-point agenda which includes increasing investment, completing infrastructure projects in a time-bound manner and exploiting of natural resources, besides giving freedom to bureaucrats to take decisions and implement them.
The Prime Minister has already decided to empower individual ministries to take decisions and implement them speedily. On Saturday, he had scrapped the Empowered Group of Ministers (EGoMs) and Group of Ministers (GoMs), a legacy of the UPA government.