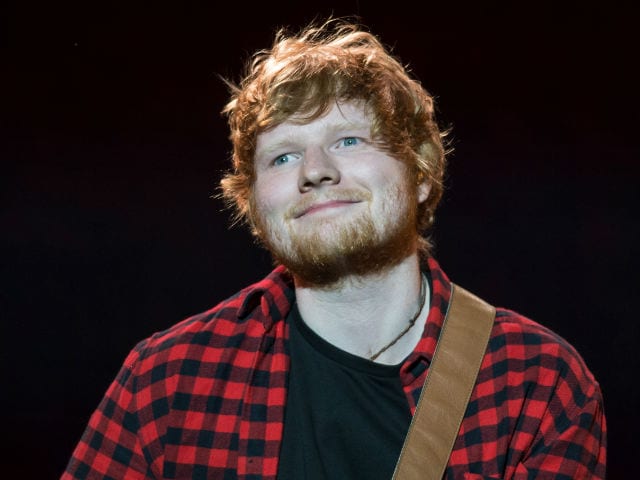 Highlights
Ed Sheeran didn't close his Twitter account; it's updated via Instagram
There's nothing but people saying mean things: Ed Sheeran on Twitter
Some celebs left Twitter and never looked back while some returned
New Delhi:
Twitter is a funny place, especially for celebrities. They enter with the hope to connect with their fans, promote their projects and entertain their followers. In return, they are trolled, mocked, abused and sometimes racially profiled. Singer Ed Sheeran, whose third studio album
Divide
which became a rage worldwide (courtesy songs like
Shape Of You
and
Eraser
), is the recent celeb to join the Twitter exodus party. The 26-year-old singer recently told
The Sun
that he's off Twitter completely because "There's nothing but people saying mean things. One comment ruins your day." The singer added that he hasn't closed the Twitter account, which will be updated vis-a-vis his Instagram account, where he's still active.
Here are few more examples of cyberbullying, which forced celebs to quit Twitter. Some returned while the others tried to befriend other social networking platforms. Some returned but only to promote their projects. Take a look:
Ram Gopal Varma
Ram Gopal Varma who was more famous for his Twitter controversies than the films he made
left the social networking site abruptly
one day without giving any reason. Before leaving, he added that he'll remain active on Instagram. He also wrote quite a stylish farewell tweet: "This my last tweet before my tweet death..but I will not RIP nd seriously work from now on @RGVzoomin Birth:27/5/2009 Death:27/5/2017 (sic)."
Sonu Nigam
Sonu Nigam quit Twitter in
protest after his colleague Abhijeet Bhattacharya's account was suspended
(Yes, sometimes Twitter chucks out celebs) saying that there is no respect for 'freedom of expression.' Sonu Nigam announced his departure from Twitter in 24 tweets, which were erased with his account. Here are the screenshots of Sonu Nigam's farewell tweets: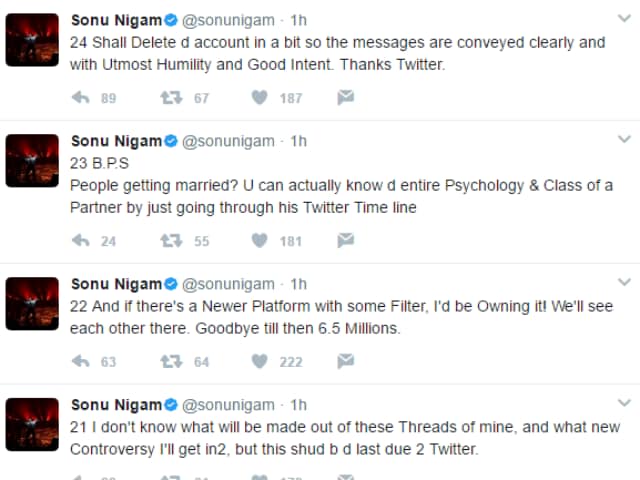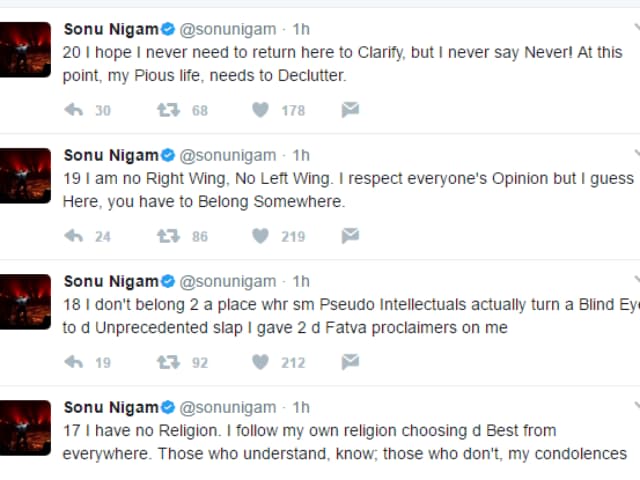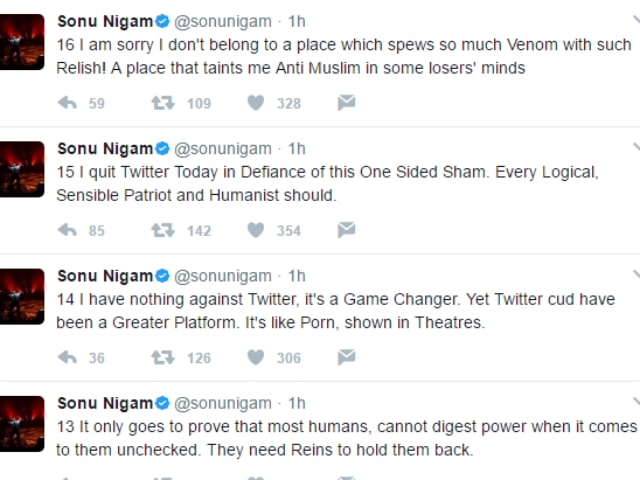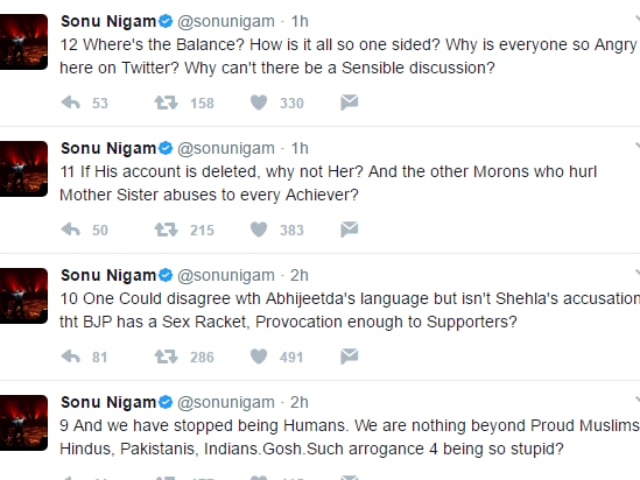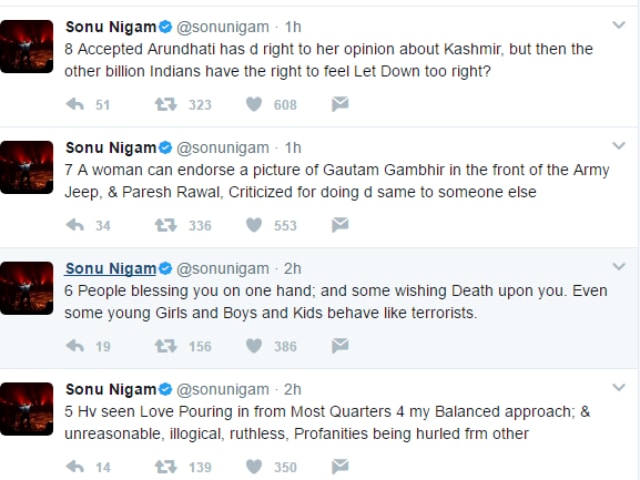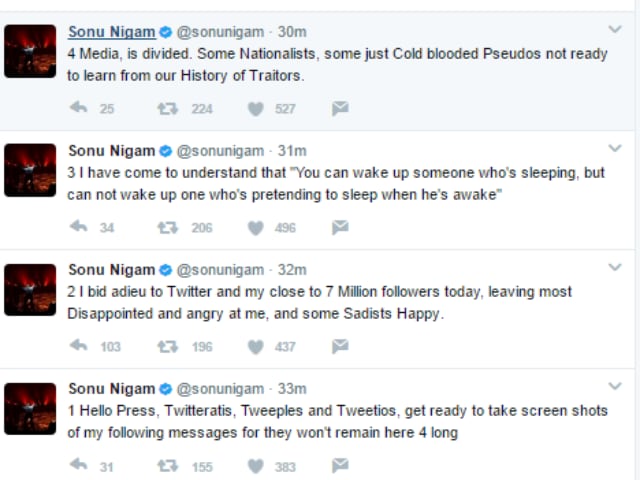 Keira Knightley
Keira Knightley famously joined Twitter for 12 hours in 2013. She compared her short-lived Twitter experience (under a fake name) to 'playing in a school playground.' She told
independent.co.uk
: "It made me feel a little bit like being in a school playground and not being popular and standing on the sidelines kind of going."
Celebs Who Twitter A Second Chance:Rishi Kapoor
Rishi Kapoor's Twitter chronicle is a little complicated. The actor joined Twitter in 2000 - he tweeted for a while and then stopped updating his account. Five years later he returned and Bollywood welcomed him with open arms. Three months later, he announced
he was leaving (again)
: "Hi. Thought about it. Too much negativity abusive language and disregard for seniors. Will retire from Twitter because it has only given me grief." But he returned and stuck around till now. Rishi Kapoor often gives social media trolls a taste of their own medicine but sometimes
his tweets are deemed offensive
.
To tackle trolls, who became menace, Rishi Kapoor issued a warning through his Twitter bio: "Don't you dare try trollers and abusers! You will be abused and BLOCKED - your loss if you following me. Don't like me, unfollow me. Signed - Terrorist of the family" (sic)." And this display pic:
#NewProfilePicpic.twitter.com/uqyJtiWP80

— Rishi Kapoor (@chintskap) March 7, 2017
Leslie Jones
Like with Ed Sheeran, rude comments coupled with racial slurs forced actress Leslie Jones to quit Twitter with "tears and a very sad heart." She was disturbed with the hateful comments which flooded her Twitter timeline after the release of the reboot
Ghostbusters
in 2016. "All this because I did a movie. You can hate the movie but the s**t I got today, wrong," she added. In a series of tweets, Leslie Jones that she felt 'numb' after she went through the "words and pics and videos - videos you all. Meaning people took time to spew hate." But she returned two days later. After all, who'd 'live tweet
Game Of Thrones
'
Welp...a bitch thought she could stay away. But who else is gonna live tweet Game of Thrones!!

— Leslie Jones (@Lesdoggg) July 21, 2016
Shah Rukh Khan
In 2013, Shah Rukh Khan quit Twitter after a nasty cyber bullying episode following an interview. "Sad, I read so much judgements, jingoism, religious intolerance on the net and I used to think, this platform will change narrow-mindedness, but no," he tweeted in January before taking a break. SRK never formally announced his departure from Twitter and resumed tweeting in May 2013. His message was clear: "Healing doesn't mean the damage never existed. It means the damage no longer controls your life."
Recently, Shah Rukh Khan talked about the
impact of social media on his life during TED Talks
in Vancouver. "Everything I said took a new meaning, everything I did- good, bad, ugly was there for the world to comment upon and judge. Everything that I didn't say or do was met with the same fate," he said.
Aamir Khan
Aamir Khan has had a on again-off again relationship with Twitter. The actor first joined Twitter in 2010 but became dormant for months at a stretch reportedly due to the negative tweets flooding his Twitter timeline. Unlike most his colleagues, Aamir Khan has also kept his Twitter strictly professional.
Other celebs who rejoined Twitter after bidding adieu are Anurag Kashyap, who one day wuit saying: "enough feeding the trolls." Singer Adele left the social networking site after reading hurtful comments about her son. She rejoined with the announcement of her then new album
24
and like Aamir Khan, she uses Twitter as a promotional vehicle. Singers Kanye West and Zayn Malik have a similar story.
Miley Cyrus left Twitter because her boyfriend Liam Hemsworth insisted. She rejoined after their break-up but did not leave again after they patched-up.