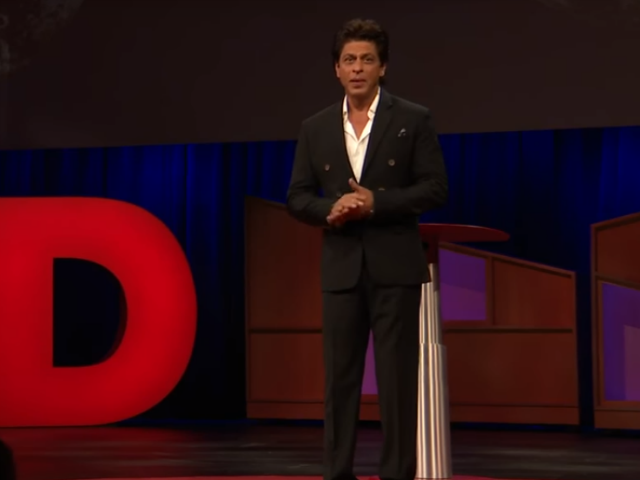 Highlights
SRK is the first Indian actor to speak at TED Talks
SRK spoke about himself, the perils of social media, humanity in general
"Humanity is an ageing movie star like me," Shah Rukh Khan said
New Delhi:
Actor Shah Rukh Khan's TED Talk is now available in full on the Internet
. SRK, 51, spoke at TED Talks in Vancouver two weeks ago - video of his speech has now been uploaded in entirety online. SRK is the first Indian actor to speak at TED Talks and his address was his trademark mix of wisdom and wit, articulated in typical Shah Rukh Khan style. He spoke about himself, the perils of social media, and how humanity in general and he in specific are alike. SRK's presence at TED Talks attracted unusual crowds, news agencies reported earlier. Here are 10 big quotes from Shah Rukh Khan's address.
"I sell dreams and I peddle love to millions of people back home in India, who assume that I am the best lover in the world."
"I have been made to understand that there a lot of you who haven't seen my work and I feel really sad for you. That doesn't take away the from fact that I am completely self-obsessed, as a movie star should be."
"I truly believe that humanity is a lot like me. It is an ageing movie star, grappling with all the newness around itself, wondering whether it got it right in the first place and still trying to find a way to keep on shining regardless."
"By the time I was 40, I was really flying. I had done 50 films by then and 200 songs and I had been knighted by the Malaysians and given the highest civilian honour by the French government. Humanity was soaring with me. We were both flying off the handle actually."
On joining social media:
"Everything I said took a new meaning, everything I did- good, bad, ugly was there for the world to comment upon and judge. Everything that I didn't say or do was met with the same fate."
"Reality became virtual and virtual became real. I started to feel that I couldn't be who I wanted to be or say what I actually thought. And humanity at this time completely identified with me. Both of us were going through mid-life crisis. Humanity, like me, was becoming an over-exposed prima donna."
"I tried to reconstruct my identity on social media."
"Neither power nor poverty can make your life more magical or less torturous... Whatever helps you survive is perhaps the oldest and simplest emotion known to mankind. And that is love."
"Mankind will never be the wiser about its future unless it is coupled with a sense of love and compassion for their fellow beings."
"You may use your power to build walls and to keep people outside or you may use it to break barriers and welcome them in."
Watch:
Shah Rukh Khan, last seen in Raees, will be hosting the Indian edition of TED Talks
. He is also, as always, working on multiple movies, including a still untitled project directed by Imtiaz Ali and co-starring Anushka Sharma.