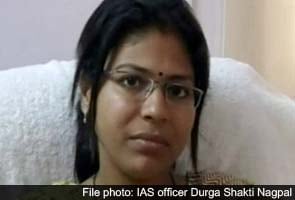 Bareilly:
A senior Uttar Pradesh minister has hit out at the media for "glorifying" suspended Indian Administrative Service (IAS) officer Durga Shakti Nagpal as "Goddess Durga".
"The media has projected Durga as (Goddess) Durgaji. Otherwise in such cases, officers from the level of managing director (MD) to chief engineer get suspended and not even a single line is published," Mr Khan told reporters on Thursday night.
Mr Nagpal, a 2009-batch officer, was suspended by Uttar Pradesh's Samajwadi Party government on July 27 for "risking communal tension" by ordering the wall of a mosque being built illegally on government land at a village in Greater Noida.
Amid allegations that she was punished for going after the state's powerful sand mining mafia, Congress president Sonia Gandhi asked Prime Minister Manmohan Singh to ensure that the officer was not unfairly treated.
Upset by the Centre's intervention, a Samajwadi Party leader said: "Take away all IAS officers, we can do with our own".
Asked to comment on those remarks, Mr Khan said: "There are 1,000 to 2,000 IAS officers in a country of 125 crore people. Can't other people run the country?"
The Samajwadi Party's latest defence came as more IAS officers came out in her support.
The Bihar IAS association criticized the way civil servants are treated by political leaders, and said the arbitrary use of disciplinary powers is "detrimental to the morale of civil servants."
The IAS body said in a resolution that the Centre should add safeguards against victimization of officers, and urged the Uttar Pradesh government to revoke Ms Nagpal's suspension.