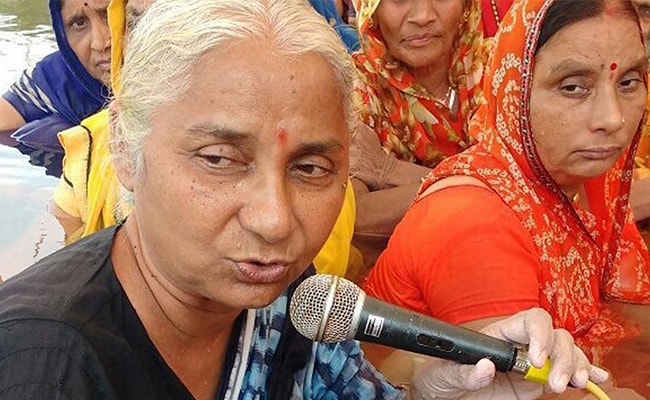 New Delhi:
The Narmada Bachao Andolan (NBA) on Sunday said the "drama" of Prime Minister Narendra Modi dedicating the Sardar Sarovar Dam to the nation on his birthday was a "complete failure".
It also alleged that the benefits of the project, "as being touted by the prime minister", were
"far-fetched"
as they were a "bunch of lies and propaganda".
The Medha Patkar-led movement, in a statement, said it had postponed its "
Jal, Zameen, Jeevika, Haq Satyagraha
" and added that its struggle would continue.
"The prime minister may want to close the chapter, but it is not since the people of the Narmada Valley have not received their full entitlement and not all is lost.
"Our loss will be a loss for the people fighting across the country, opposing displacement, submergence and forcible evictions -- all in the name of development," it said and appealed to everyone to join their struggle.
"We believe that the drama of dedicating the Sardar Sarovar project to the nation on the prime minister's birthday was a complete failure. This was evident from the fact that except for Gujarat Chief Minister Vijay Rupani, no one else turned up. It was announced that the chief ministers of all the BJP-ruled states would participate.
"The benefits (of the project) being touted by the prime minister are far-fetched since they are a bunch of lies and propaganda," it said.
The movement claimed that the "grand aarti" was also a failure as the 2,000 priests, who were supposed to arrive from Varanasi to perform it, did not turn up.
"We believe this is a victory of our struggle and the massive criticism from all over the country, decrying this cruelty on his (Modi's) birthday, when 40,000 families are facing submergence in 192 villages of Madhya Pradesh and also at the resettlement sites of Gujarat and Maharashtra," it said.
The prime minister inaugurated the Sardar Sarovar Dam
on the Narmada river on his 67th birthday on Sunday and dedicated it to the nation.
The Narmada Bachao Andolan movement has been demanding a proper rehabilitation project for the dam oustees.