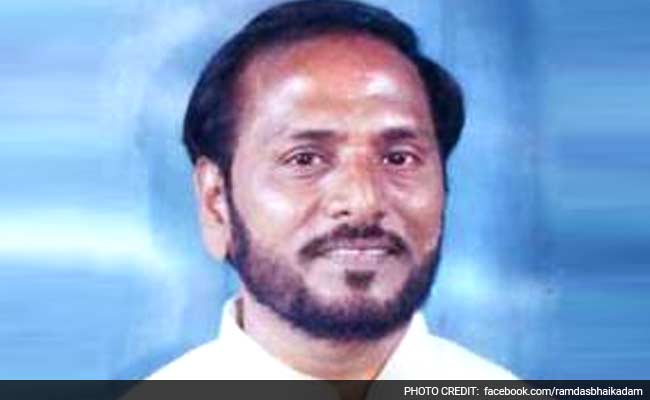 Mumbai:
Criticising BJP Maharashtra chief, Raosaheb Danve for his remarks supporting cricket ties with Pakistan, Shiv Sena leader and state minister, Ramdas Kadam today said the BJP leader should clarify whether Prime Minister Narendra Modi endorsed his views.
Speaking to reporters, the state environment minster, Mr Kadam said that Mr Danve should check PM Modi's earlier speeches during last year's general election campaign about his stance on Pakistan.
"Does Modi endorse cricket ties with Pakistan after becoming PM?... If the BJP wants to take such (revival of Indo-Pak cricket ties) steps to put down Shiv Sena, it will be rubbing salt to the wounds of families of martyred soldiers and not that of Shiv Sena," said the minister.
Justifying the party's anti-Pakistan stand, Mr Kadam said Shiv Sena, ally of ruling BJP in Maharashtra, will continue to oppose sports and cultural ties with Pakistan till they stop sponsoring cross border terrorism.
"This was the stand of Balasaheb Thackeray and continued by Uddhavji (Uddhav Thackeray)... those who raise slogans in favour of Pakistan inspite of our soldiers being killed on the border should go there," he said
When asked about reports of Pakistani political party demanding that the Shiv Sena be declared a terrorist outfit, Mr Kadam said, "does taking a nationalist view stand for terrorism?... India's stand has always been that Pakistan should be declared a terrorist state."
About the Dussehra rally on October 22, Mr Kadam said the party's annual rally on the festival had a tradition and history. "This is our party's 50th year," he added.
The Shiv Sena had yesterday held protests outside the BCCI headquarters in Mumbai against scheduled talks with Pakistan Cricket Board (PCB) chief, Shaharyar Khan here over resumption of bilateral cricketing ties.
The state unit of BJP had later said it did not agree with Sena's agenda of opposing cricket and cultural ties with the neighbouring country.
Recently, Sena activists had smeared the face of former BJP strategist, Sudheendra Kulkarni with black paint, over his refusal to cancel the book launch function of former Pakistan foreign minister, Khurshid Mahmud Kasuri, and had forced the organisers to cancel the Mumbai concert of renowned Pakistani ghazal singer, Ghulam Ali.