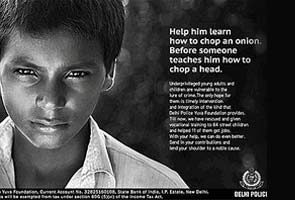 New Delhi:
The Delhi police have apologised and taken off a controversial advertisement that called for funds to train street children, with the provocative tag line - "Help him learn how to chop an onion, before someone teaches him how to chop a head."
The Delhi Police Yuva Foundation had put out the advertisement to raise funds for their youth training programme, but it ended up raising a flood of outrage and adverse reactions on the social media.
Many activists said the ad presumed that the only future for a child was "between chopping an onion and chopping a head." The Delhi Police was panned for the insensitive portrayal, especially at a time when multiple rapes and murders have jolted the capital and brought people out to the streets in protest.
A Delhi Police spokesperson said the ad had been pulled out "considering the dignity of street children" and offered an apology "if anyone had been offended".
The Delhi Police acted quickly after the Delhi Commission for Protection of Child Rights issued notice, saying the ad "violated the principal of dignity and depicted a vulnerable child as a future criminal who can chop a head if he is not provided vocational training."
The panel noted that "teaching a child how to chop an onion does not really do justice to a child".
Critics also slammed the ad on the social media for encouraging child labour as the Delhi Police boasted that it had got jobs for 11 children who had been given vocational training.
But the Delhi Police offered a curious defence - it was an attempt to encourage parents to instill the right values in children so they do not deviate from the right path.