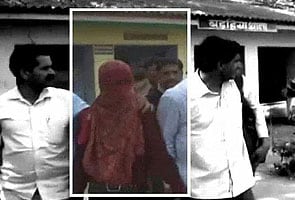 Lakhi Sarai/New Delhi:
A 19-year-old boy was arrested from Bihar today for allegedly raping a five-year-old girl in Delhi which he described as a "big mistake", two days after the first accused, Manoj Kumar, was apprehended in the case.
Pradeep Kumar (19) was nabbed from his maternal uncle's house in Barahiya village in Bihar's Lakhi Sarai by a joint police team from Delhi and Bihar and sent to transit remand for 15 days by a court there, police said.
Pradeep's name surfaced in the case on the basis of interrogation of his friend and prime accused Manoj Kumar (22) who was apprehended from his in-laws' house in Bihar's Muzaffarpur on Saturday.
"We have got information from (our team in) Bihar that Pradeep has confessed to the crime. He is an illiterate," Delhi Police Commissioner Neeraj Kumar told reporters in Delhi.
Pradeep said, "I have committed a big mistake," as he was escorted by police.
Police sources said they have now invoked the sections concerning gang-rape in the case.
Bihar Director General of Police Abhayanand said Pradeep was produced before Lakhisarai Chief Judicial Magistrate Vishnu Dev Upadhay who sent him to transit remand. He is being brought to Delhi.
A large crowd had gathered near the court and the police had a tough time in controlling it.
He had fled from capital on April 15 after allegedly raping the girl, fearing that she was dead after they strangled her.
Though Pradeep refused to divulge the sequence of events, police sources said Manoj told interrogators that Pradeep came to his house in east Delhi's Gandhi Nagar on April 15 evening and they had consumed alcohol.
Manoj claimed that Pradeep insisted on bringing a girl to the house and he went out and lured the five-year-old girl living in the same building with a chocolate, sources said.
Manoj also told police that he did not sexually assault the girl and it was Pradeep who committed rape, they said.
He had also claimed that they fled from the house after strangling her fearing that she will tell her parents about the crime they committed. They also thought she was dead, sources added.
Superintendent of Police of Lakhisarai district Rajeev Mishra, who interrogated him, said Pradeep has "admitted" to his crime.
Pradeep belongs to Ahiyapur in Sheikhupura district of Bihar, Additional Director General of Police (ADGP) of Bihar Ravindra Kumar said. He left his native place for Delhi four years ago and he was working as a mason, he added.
He came in contact with Manoj in Delhi and they became friends. In his native Sheikhpura, locals alleged that he was in the habit of harassing girls and was beaten up by residents many a times in this regard.
A senior Delhi Police official said once Pradeep is brought to Delhi, he will be confronted with Manoj to verify the claims made by the latter.
Pradeep Kumar's sister-in-law Kajal Devi and Sheikhpura ward council member Shahbaz Khan claimed the youth was arrested earlier in a sex related case.
"He (Pradeep) should be hanged for what he has done," Kajal Devi told reporters.
She said two years back, Pradeep was charged with harassing a girl when he was working at a private hotel in Patna. Pradeep studied up to class VIII, she added.