Highlights
International bodies have clearly defined the violence against Rohingyas
Only 16,500 of the 40,000 Rohingyas in India have UN identity cards
United Nations High Commissioner for Refugees gives ID cards to refugees
New Delhi:
A spot right next to where garbage is dumped in south Delhi's Shaheen Bagh has been Noor Alam's home for some time, a settlement of 74 Rohingya families recognised as refugees by a United Nations body. But Noor Alam, who lives with his family of 12 members, was happy. At least, he says, they didn't have to now worry if they will live through the night. "In Burma (Myanmar), we couldn't sleep in peace. Any time the military would come," he adds.
Noor Alam is one of the thousands of Rohingya Muslims to flee Rakhine State on Myanmar's western coast where the military and Rohingya insurgents have been fighting a bloody war for years. Civilians like him, he says, have been the collateral casualty that no one cares about.
After a particularly brutal counter-insurgency operation in December last year, Noor Alam packed his bags after many in his extended family were killed. "Whoever escaped the bullet, escaped Burma," he says recalling their 15-day trek that took them from Bangladesh, their first stop, into India.
As another spell of clashes take place back home in Rakhine State,
the government has shut its doors on the refugees and declared its determination to deport 40,000 refugees in India
who had slipped into the country over the last decade.
It is a prospect that has Noor Alam in tears.
"We don't mind going back to Myanmar but only with a solution. That is our country, that is home, but death right here would be better than going back under the present circumstances," the 41-year-old says in between sobs.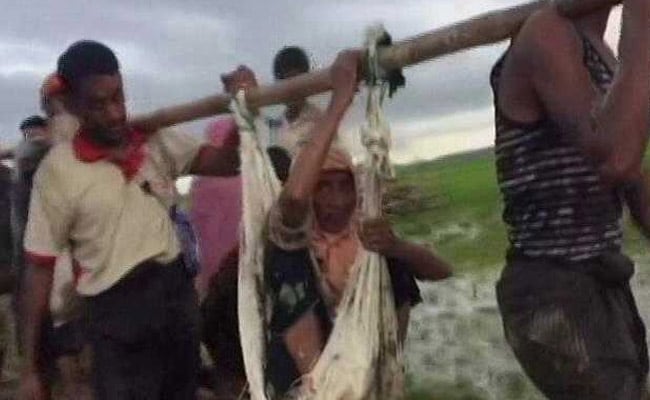 It isn't clear how, and where the government will deport them.
Deportation requires the host country to confirm the citizenship of the individual being sent back.
But Rohingyas such as Noor Alam, said to be immigrants from the Indian Sub-Continent, aren't even considered as citizens by the government in Myanmar.
Noor Alam says his parents received Identity cards from the Myanmar government in 1978 but many years later, they were given different identity cards, only this time, they were labelled illegal immigrants.
Besides, only 16,500 of the 40,000 refugees estimated to be in the country by the Union Home Ministry have been given identity cards by the United Nations High Commissioner for Refugees, or UNHCR.
But India isn't bound by the UN body's recommendations. India never did accept the 1951 UN convention on refugees that it believes did not mass influx and has preferred to deal with refugee issue bilaterally.
In a statement to NDTV, the UN body said it registers refugees and documents to asylum-seekers which help prevent arbitrary arrests, detention and deportation.
But the UN body made the point that no deportation of the Rohingya refugees had come to its notice irrespective of a spate of warnings from the Union Home Ministry.
"UNHCR has not received any official information from the Government regarding any change in its approach towards refugees. There are no reported instances of deportations of UNHCR registered Rohingya from India," the statement said.