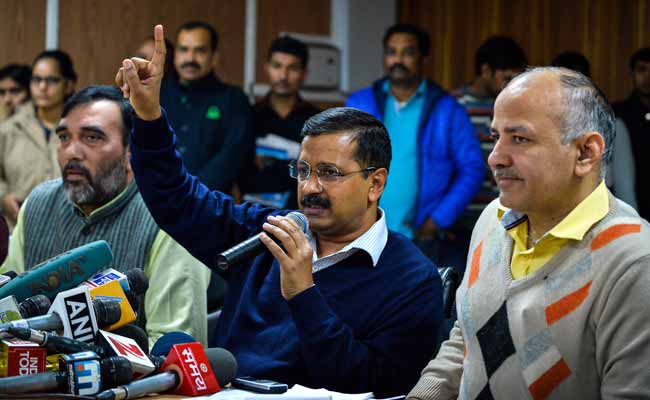 New Delhi:
The Aam Aadmi Party (AAP) led Delhi government today rejected BJP's contention that Union Finance Minister Arun Jaitley was given a clean-chit by an inquiry it had appointed to investigate alleged irregularities into Delhi Cricket body affairs which was headed by him for around 13 years till 2013.
Chief Minister Arvind Kejriwal said he would not apologise for targeting Mr Jaitley as "no clean chit" was ever given while his Deputy Manish Sisodia posed four questions to the Finance Minister and BJP over the alleged financial bunglings in Delhi and District Cricket Association (DDCA) when the Finance minister headed the cricket body and wondered why they were "running away" from a probe.
"Our panel has not named anyone in this report. Does that mean that corruption happened during the period but ghosts did it?" said Mr Sisodia.
"Why there is so much rush to absolve Jaitley? Why so much pressure? Probe by the Commission of Inquiry has begun yesterday only. Gopal Subramaniam whom we appointed as its chief had given the letter of acceptance yesterday," he added.
Taking to twitter, Mr Kejriwal said, "No clean chit ever given by any Del govt probe. That report confirmed several instances of wrongdoings but did not fix responsibility."
On the Delhi government's inquiry panel into DDCA case, the Chief Minister said in another tweet, "It didn't mention ANYONE's name n recommended Enquiry Commission to fix responsibility, which we have done now."
Referring to certain allegations against DDCA, Mr Sisodia said, "Wasn't Jaitley the head of DDCA during 1999-2013 when these irregularities happened? When laptops were hired at Rs 16,000 per day when cost of renovation of the the Feroz Shah Kotla stadium escalated to Rs 144 crore from Rs 24 crore.
"The companies that were given contracts in that period had same directors and same addresses. Does not this indicate towards corruption? How did this happen then? Who did it?" he said.