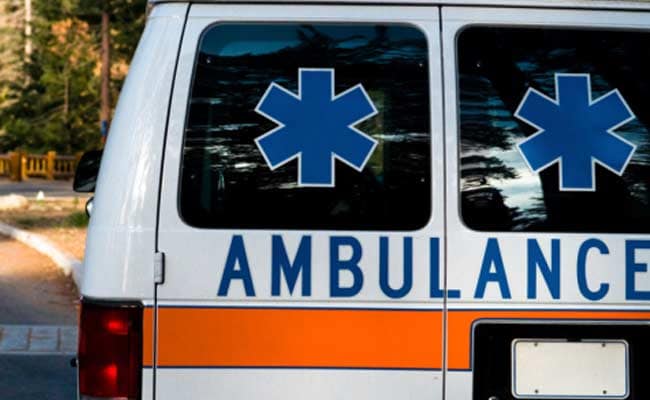 Agartala:
A family from Gomati district of Tripura, stranded in Chennai due to the ongoing lockdown, has travelled 3,213 km in an ambulance to return home amid the restrictions imposed to contain the coronavirus outbreak.
Chanchal Majumder along with his wife Ashima, who had gone to Chennai for treatment in a private hospital there, reached home on Sunday evening, and were sent to a quarantine centre, an official said.
They are from Udaipur town and rushed back home in the midst of the ongoing lockdown as their daughter's marriage is scheduled on May 8.
"We visited Apollo hospital, where my wife had undergone an operation. When she was supposed to be released from the facility, the lockdown was announced and it was very expensive to stay there."
"Besides, marriage of our daughter is fixed on May 8, so we had to hire the ambulance during the lockdown to return home," Mr Majumder, a retired deputy director of sports and youth affairs department, told reporters in Agartala on Monday evening.
During their long journey, they had to furnish documents of the hospital in different check points of Tamil Nadu, Andhra Pradesh, Odisha, West Bengal, Assam, Meghalaya and Tripura, he said.
"We booked the ambulance from the hospital. One more patient from Tripura was with us in the ambulance with an attendant and a relative," Mr Majumder said.
They were quarantined at a centre in Udaipur immediately after they returned home, Gomati district magistrate Tarun Kanti Debnath said.
"As they crossed through several states and high risk zones, we have shifted them to a quarantine centre. They did not meet their daughter or any other relatives after they returned home," Mr Debnath said.
Two COVID-19 cases have been reported in Tripura so far, and one has already recovered from the disease while the other is undergoing treatment in a hospital in Agartala.
World
Coronavirus has spread to 194 countries. The total confirmed cases worldwide are 19,32,04,719 and 41,43,651 have died; 6,21,43,675 are active cases and 12,69,17,393 have recovered as on July 24, 2021 at 9:11 am.
India
3,05,03,166

35087
Recovered
In India, there are 3,13,32,159 confirmed cases including 4,20,016 deaths. The number of active cases is 4,08,977 and 3,05,03,166 have recovered as on July 24, 2021 at 8:00 am.
State & District Details
State
Cases
Active
Recovered
Deaths

6251810 6753

98120 607

6022485 5979

131205 167

Sri Potti Sriramulu Nell*

296

1950339 1747

22939

1914177 2365

13223 14

2891699 1705

24150

2831226 2243

36323 30

170272 73

1307

165839 139

3126 3

2544870 1830

24816

2486192 2516

33862 24

3235533 17518

135700 6319

3083962 11067

15871 132

1000881 118

3046

984327 312

13508 1

Jayashankar Bhupalapally

9

640012 643

9729

626505 767

3778 4

963851 1917

17270

941204 2044

5377 69

791732 11

172

781048 24

10512

824644 36

345

814223 61

10076

953495 33

327

944216 66

8952

769704 39

763

759325 38

9616 3

1708114 57

994

1684372 86

22748 5

1435778 58

573

1410164 69

25041 1

555842 1621

15942

534809 1869

5091 15

24598 257

2796 77

21473 179

329 1

724315 85

582

714098 100

9635

1522103 842

12089

1491958 942

18056 16

North And Middle Andaman

1

7525

17

7379 2

129

120101 98

918

117397 132

1786 3

45188 480

4357

40619 517

212 4

27116 92

1251 14

25328 77

537 1

10630 6

41 5

10585 1

4

346885 39

299

341464 45

5122

75907 299

4003

71166 543

738 4

20289 5

67

20015 20

207 1

320403 63

1409

314620 166

4374 1

204887 87

893

200483 127

3511 2

Shahid Bhagat Singh Nagar (Nawanshahr)

99

598658 68

768

581634 105

16256 6

341640 11

606

333675 54

7359

90262 1284

9939

78872 1725

1451 15

61917 1

33

61075 2

809

59904 558

4539 126

54356 411

1009 21

31145 653

8107 363

22904 287

134 3

10110 10

70 3

9991 7

49