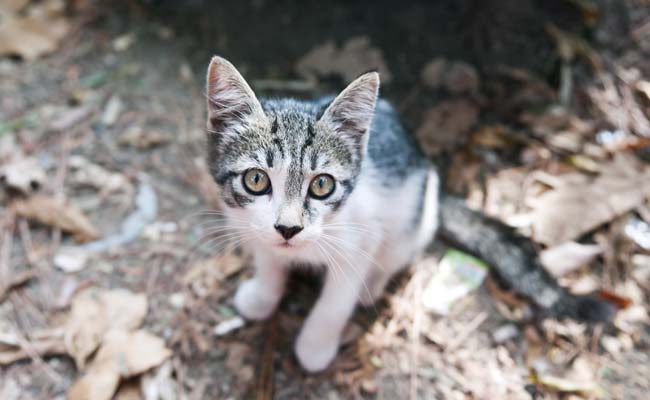 Chennai:
A stowaway cat who was found in a container that arrived from China at the Chennai port on February 17 has finally been released to The Cattitude Trust and is now up for adoption. People for the Ethical Treatment of Animals (PETA) India had been appealing for the animal's release for three months, with support from MP Maneka Gandhi, co-founder of Blue Cross of India Dr Chinny Krishna, and The Cattitude Trust.
The cat had been facing deportation to China, because of legal hurdles and ignorance regarding how the novel coronavirus is transmitted.
Dr Rashmi Gokhale, Manager of veterinary services, PETA India, wrote to AQCS Chennai stating that PETA India was willing to foster the animal until she was adopted into a caring home.
"In China, cats are often killed for meat or fur," Dr Gokhale says, "and it's likely that this animal would have been treated cruelly upon arrival if she would have survived that journey at all. We thank the Central government, the Tamil Nadu state government, and the AQCS and Chennai customs officials for freeing her and allowing her to remain in India. We are also, of course, grateful to MP Maneka Gandhi, Dr Chinny, The Cattitude Trust, and everyone else who spoke up to help her."
On April 19, the Central government advised the Animal Quarantine and Certification Services (AQCS) of Chennai to hand over the cat, upon completion of a 30-day quarantine period. The Tamil Nadu Animal Husbandry, Dairying and Fisheries Department, also facilitated the process of freeing the feline.
A Right to Information (RTI) response received from the AQCS on April 27 stated that as per the March 19 directions of the Department of Animal Husbandry and Dairying, under the Ministry of Fisheries, Animal Husbandry and Dairying, "The cat will be handed over to the owner after successful completion of the quarantine period of 30 days or the relevant testing whichever is later as per the letter issued by the Ministry mentioned above."
Chennai customs officials handed the cat over to The Cattitude Trust on Saturday. The organisation has been actively working in Chennai since 2005 to help community of cats. The cat up for adoption is a healthy, neutered female with a dark brown tabby coat and distinct white paws. Details regarding the adoption is available on PETA India website.
World
Coronavirus has spread to 188 countries. The total confirmed cases worldwide are 1,27,13,046 and 5,65,057 have died; 51,47,584 are active cases and 70,00,405 have recovered as on July 12, 2020 at 9:42 am.
India
In India, there are 8,49,553 confirmed cases including 22,674 deaths. The number of active cases is 2,92,258 and 5,34,621 have recovered as on July 12, 2020 at 8:00 am.
State & District Details
State
Cases
Active
Recovered
Deaths

246600 8139

99499 3556

136985 4360

10116 223

Sri Potti Sriramulu Nell*

296

27235 1813

12533 597

14393 1199

309 17

36216 2798

20887 1848

14716 880

613 70

2368 117

928 33

1428 81

12 3

134226 3965

46413 305

85915 3591

1898 69

7438 488

3446 343

3963 143

29 2

3897 130

810 88

3070 42

17

Jayashankar Bhupalapally

9

33402 1178

12135

20919 1714

348 9

12526 570

4105 177

8360 388

61 5

17201 544

3878 340

12679 198

644 6

40941 872

10260 360

28649 502

2032 10

23748 574

5376 319

17869 249

503 6

20582 648

4891 151

15394 490

297 7

35092 1392

11490 466

22689 902

913 24

110921 1781

19895

87692 2998

3334 34

15536 936

6351 925

9150 3

35 8

151 17

71 17

80

0

15373 798

4557 210

10685 576

131 12

28453 1344

9588 707

17959 611

906 26

North And Middle Andaman

1

163 7

70 6

93 1

0

1337 65

629 11

690 53

18 1

341 6

214 1

125 5

2

748 16

435 7

313 9

0

0

0

0

0

3613 194

1347 175

2243 19

23

1949 31

572 27

1375 3

2 1

1077 13

148 2

928 11

1

10156 268

4092 149

5895 109

169 10

1182 11

263

908 25

11

Shahid Bhagat Singh Nagar (Nawanshahr)

99

7587 230

2352 199

5040 23

195 8

3417 44

653 32

2718 12

46

1593 11

750

843 11

0

555 16

135 11

413 5

7

207

139

66

2

227 1

77

150 7

0

0

0

0

0