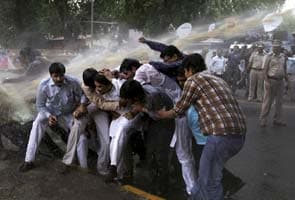 New Delhi:
Police resorted to use of water cannons to disperse a huge crowd of protesters that had gathered outside Railways Minister Pawan Kumar Bansal's residence in Delhi today. The protesters, all activists from the youth wing of the BJP, were demanding Mr Bansal's resignation over the bribery scam that has sparked a fresh political storm.
Cops swung into action after several BJP workers tried to break barricades outside the minister's house which has been witnessing heavy deployment of police in the last few days. They were later taken away to the Parliament Street police station. Mr Bansal's residence, incidentally, is right opposite the BJP headquarters at Ashoka Road in Delhi.
The opposition, led by the BJP, has threatened of continued disruptions in Parliament if Mr Bansal is not sacked. On his part, the minister insists that he is innocent, having told seniormost members of the Congress, including the Prime Minister, that he has no business links with his nephew, who has been the genesis of this bribery scandal.
Mr Bansal's nephew, Vijay Singla, was arrested last week, allegedly accepting a bribe of Rs 90 lakh to help a senior railway official land a plum post in the Railway Board.
The minister has offered to resign but his party has, for the time being, decided against asking him to go.