Patna:
Highlights
Rahul Gandhi was assigned to mediate Bihar standoff
He failed, Nitish Kumar ended alliance with Congress, Lalu Yadav
Bihar Congress leader kept waiting for 3 days to meet Rahul Gandhi
After being pink-slipped along with Lalu Yadav, the Congress branch in Bihar
is awash in resentment - not just towards Chief Minister Nitish Kumar, who laid off his allies on Wednesday night, but also for party boss Rahul Gandhi, who was assigned to keep the government in Bihar from sinking.
Mr Gandhi, 47, did not deliver. And along with the result, his party's legislators in Bihar are reportedly giving him an F for Effort. Sources who asked not to be named because of the sensitivity of the situation said that Mr Gandhi displayed an arrogance and disregard for the counsel of his leaders from Bihar - a charge levelled against him in the past in states like Assam where the Congress lost its governments. In this case, said sources, the Congress' senior-most leader in Bihar, Ashok Choudhary, was kept waiting for three days before Mr Gandhi made the time to see him in Delhi earlier this week.
Speaking to reporters on Thursday, Mr Choudhary said, "Our flock remains together". Of the now-defunct government in which he was Education Minister, he said, "Nitish should not have left us."
Till Wednesday evening, the Bihar government had three constituents
- Nitish Kumar's Janata Dal United or JDU, Lalu Yadav's Rashtriya Janata Dal or RJD, and the Congress. Now, it is the BJP with whom Mr Kumar plans to run Bihar.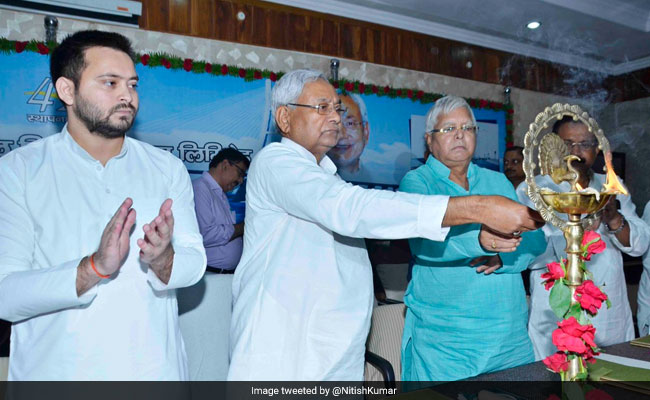 Mr Yadav's party has the most lawmakers - 80. Mr Kumar's has 70. The Congress has 27.
But the alliance ran out of gas
after Mr Yadav's son, Tejashwi, was accused of corruption charges
and refused the Chief Minister's orders to provide a public and detailed defense. For weeks, the Chief Minister and the Yadavs tenanted a standoff. Mr Gandhi was told by his mother and party chief Sonia Gandhi to take charge of the crisis.
In an attempt to mediate, Mr Gandhi met with Mr Kumar over the weekend in Delhi. The Chief Minister reportedly told him that he would not allow a "UPA3" - a new iteration of the Congress-led governments (UPA 1 and 2) which saw vast corruption scandals executed in Dr Manmohan Singh's government by allies.
The Chief Minister also reminded the Congress leader that when Lalu Yadav was found guilty of corruption in a different case in 2013, it was Mr Gandhi who dramatically tore up an executive order or ordinance that was designed to protect Lalu Yadav from a Supreme Court ban on convicted politicians holding public office.
After the meeting between the Chief Minister and the Congress boss, Ashok Choudhary travelled to Delhi to meet with Mr Gandhi. It was only after 72 hours - despite the full-blown crisis - that he was able to meet with Rahul Gandhi and CP Joshi, who is assigned to handle Bihar for the Congress.
In another sidelining of the state leadership, it is Mr Joshi who is being sent to Patna to coordinate the Congress strategy in voting against the Chief Minister when he takes his trust vote today. Between the BJP and his JDU, he has about eight votes more than what he needs to win.
Get Breaking news, live coverage, and Latest News from India and around the world on NDTV.com. Catch all the Live TV action on NDTV 24x7 and NDTV India. Like us on Facebook or follow us on Twitter and Instagram for latest news and live news updates.