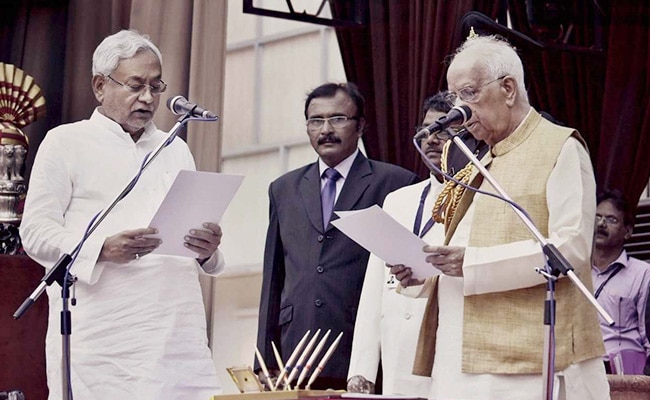 With oath today, Nitish Kumar ended his party, JDU's
mahagathbandhan
or Grand Alliance with Lalu Yadav's RJD and the Congress last evening and
joined hands with his former partner Bharatiya Janata Party
. Bihar's capital Patna was
buzzing with high octane drama through the night
after Nitish Kumar met Bihar Governor Keshari Nath Tripathi to stake claim to form government. This is his sixth innings as Chief Minister in a span of 12 years. Mr Kumar and his new team's oath ceremony today comes in the backdrop of protest by his former deputy
Tejashwi Yadav who said his party, the RJD, will "go to court"
.
Mr Kumar's resignation came after Lalu Yadav reiterated earlier on Wednesday that his son, T
ejashwi, would not quit as No 2 in the government
despite being caught in a corruption scandal.
Here are the live updates for formation of Nitish Kumar's new government in Bihar:
Akhilesh Yadav, former Uttar Pradesh Chief Minister who lost power to the BJP in India's largest state earlier this year, found just the song to match the occasion.
ना ना करते, प्यार तुम्हीं से कर बैठे
करना था इंकार मगर इक़रार तुम्हीं से कर बैठे
Bihar Today

- Akhilesh Yadav (@yadavakhilesh) July 27, 2017