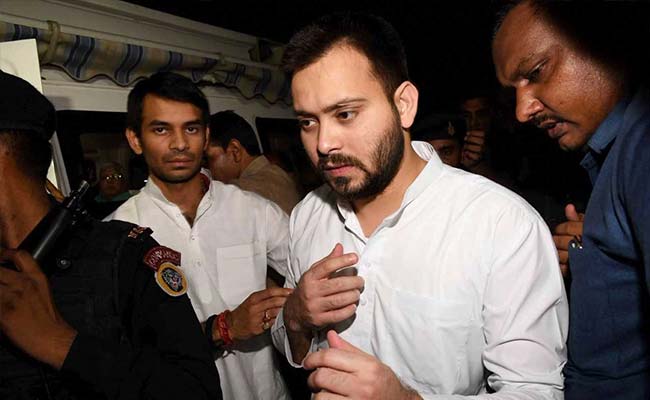 Highlights
Nitish Kumar quit as the Chief Minister of Bihar last evening
He will form government with BJP's support, to take oath today
Tejashwi Yadav marched with 100 supporters around 2 am
Patna:
Nitish Kumar in a shock move, quit as Chief Minister of Bihar on Wednesday evening. He said the approach of his allies, Lalu and Tejashwi Yadav, to a CBI case of corruption filed against them earlier this month, made it untenable for him to remain in partnership with them. Within hours the BJP offered support to Mr Kumar, and they have staked claim to form a new government. The oath ceremony will be held at 10 am. Tejashwi Yadav -- who as the leader of the largest party in Bihar said he would stake claim -- met the Governor in a bid to defer the oath ceremony, but drew a blank.
Here is a 10-point guide to this big political story:
Tejashwi Yadav alleged that Nitish Kumar was trying to "kill the people's mandate" and said his party, the RJD, will "go to court". The leader, whose party was to meet the Governor at 11 am, went to Raj Bhavan after Keshari Nath Tripathi met Nitish Kumar. "Why is the Governor changing decision so late in the night? Instead of 5 pm, oath ceremony now at 10 am?" he tweeted before starting the impromptu march with 100 supporters around 2 am.

"There was no scandal before this, I tried to make it work for as long as I could," Nitish Kumar said after handing his resignation to Governor Keshari Nath Tripathi. "My conscience would not allow me to continue," he said.

The BJP will join the Nitish Kumar government in Bihar and not offer "outside support" as it had earlier suggested. "We have submitted a letter with support of 132 legislators. We have been given the time of 10 am today for swearing in," Mr Modi told reporters after the midnight meeting with the Governor.

Soon after Mr Kumar resigned, Prime Minister Narendra Modi praised him in a series of tweets. "Many many congratulation to Nitish Kumarji for joining the fight against corruption. Over hundred crore citizens are welcoming and supporting of the honesty." Nitish Kumar thanked PM Modi for his tweet, also on Twitter.

After Nitish Kumar's resignation, Lalu Yadav hit back with an allegation. "Nitish Kumar faced charges worse than corruption, we knew it. He has murder taint on him, we never raised it," he said. He also accused Mr Kumar of being in league with the BJP.

On July 7, the Yadavs were accused of corruption stemming from Lalu Yadav's term as Railways Minister; their home was raided. Nitish Kumar dropped broad hints that Lalu's son Tejashwi Yadav, 28, must quit his post of Deputy Chief Minister. On Wednesday, Lalu Yadav announced that Tejashwi will not quit.

Last month, Nitish Kumar abandoned his allies and other parties to side with the BJP in the election for President of India. He said the opposition which has formed an 18-party league was "in a mess" thanks largely to the Congress.

The corruption case against the Yadavs allowed Nitish Kumar the exit point he was looking for to return to the BJP, say his critics, without making it seem like he is politically promiscuous.

His support for the PM was first expressed in November when he stood out as the only opposition heavyweight to back the sudden ban of high-denomination notes.

In 2013, Nitish Kumar ended a 17-year alliance with the BJP over its decision to promote Mr Modi as its presumptive prime minister. In 2015, he tied up with the Congress and former rival Lalu Yadav to block the PM from winning Bihar for the BJP.