Highlights
Nitish Kumar ended Grand Alliance with Lalu Yadav's RJD and the Congress
He'll take oath today as Chief Minister; BJP's Sushil Modi likely deputy
Top BJP leaders met in Delhi on Wednesday to decide to support Mr Kumar
New Delhi:
Nitish Kumar met Bihar Governor Keshari Nath Tripathi on Wednesday night to stake claim to form government with the support of the BJP, hours after he dramatically resigned as Chief Minister,
ending his mahagathbandhan or Grand Alliance with Lalu Yadav's RJD and the Congress
.
Mr Kumar will take oath as the Chief Minister of a new government with Sushil Modi as his deputy. The ceremony will be at 10 am. "We have submitted a letter with support of 132 legislators. We have been given the time of 10 am today for swearing-in," Mr Modi told reporters after the midnight meeting with the Governor. Mr Modi, and legislators of both parties had accompanied Mr Kumar for the meeting, which lasted for nearly two hours.
Earlier, Mr Modi, the BJP's most senior leader in Bihar, had said, "Nityanand Rai
ji
and I called Nitish
ji
. BJP has decided to support him and the government formed under him. We will inform the Governor too". He then drove to Mr Kumar's Patna residence along with the party's state chief Nityanand Rai and other party leaders and legislators.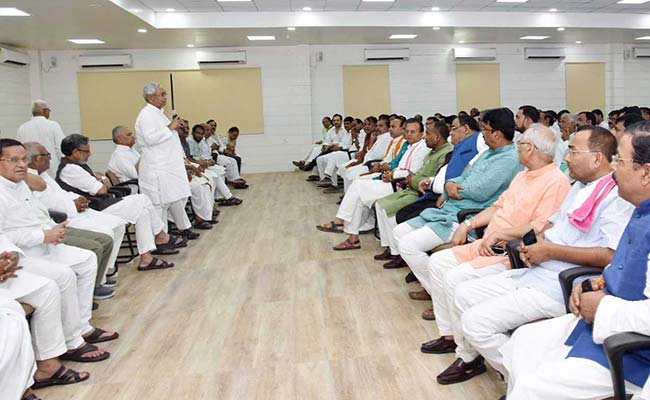 The BJP, which had earlier said it could offer Mr Kumar "outside support" has decided to join the new government, said Mr Modi, who will be Deputy Chief Minister, a post he held when their parties were allies earlier. Central BJP leaders JP Nadda and Anil Jain will reach Bihar today to oversee the new political developments.
Shortly after Nitish Kumar met the Governor and handed in his resignation on Wednesday evening, Prime Minister Narendra Modi tweeted, "Many many congratulation to Nitish Kumarji for joining the fight against corruption.Over hundred million citizens are welcoming and supporting the honesty."
Soon after, top leaders of the BJP met in Delhi on Wednesday evening to decide on supporting Mr Kumar. Mr Nadda said after the meeting that the BJP "does not favour mid-term elections."
Nitish Kumar resigned after Lalu Yadav reiterated on Wednesday that his son, Tejashwi Yadav, would not quit as the No 2 in the Bihar government despite being caught in a corruption scandal. "My conscience told me to quit," said Mr Kumar, who later thanked PM Modi for his tweet, also on Twitter.
Tejashwi Yadav, Nitish Kumar's deputy till earlier on Wednesday, met the Governor at around 2 am on Thursday and said, as Bihar's largest party, his RJD should have been invited to form the government. But even with the support of the Congress and others, they will not have the numbers.
Tejashwi Yadav also asked the Governor to stop Nitish Kumar's swearing-in ceremony
.
A few years ago, Nitish Kumar had ended a long alliance with the BJP. He partnered with the Congress and former bitter rival Lalu Yadav to stop the BJP from winning the Bihar assembly elections in 2015.
But it was an uncomfortable alliance, made more uneasy by Nitish Kumar repeatedly breaking ranks with his allies to back the BJP-led Centre on issues like demonetisation and the roll-out of the landmark Goods and Services Tax (GST), which were criticised by the rest of the opposition. It was seen to signal that Mr Kumar was open to switching sides ahead of national elections in 2019.
The corruption charges against Lalu Yadav gave Nitish Kumar the exit route he needed.
Nitish Kumar and Lalu Yadav "were strange bedfellows," said the BJP's senior leader Ravi Shankar Prasad on Wednesday evening.