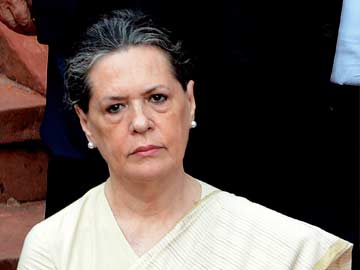 New Delhi:
The Congress was busy today gathering the signatures of 60-odd MPs to support its claim to the Leader of Opposition's post.
Party leaders said the letter is ready and will be signed by 64 MPs of the Congress and its partners in the UPA. "Many have already signed but some MPs were not present. We will try and get them signed today to give to the Speaker's office at the earliest," Anand Sharma told NDTV.
On Monday, Congress president Sonia Gandhi asserted that her party was entitled to the post of opposition leader in the Lok Sabha. "We are the single largest (opposition) party and we have a pre-poll alliance. We are entitled to the post," she told reporters at Parliament.
The Congress, with 44 members, is the second-largest party in the Lok Sabha but falls short of the 10 percent mark - 55 members in the 545-member house - which the ruling BJP has cited as a prerequisite for Leader of Opposition status.
The BJP also cites precedent from previous Congress regimes, including the Jawaharlal Nehru government, which did not have Leaders of Opposition.
Congress leaders, however, dispute it. "There is only one law of 1977 and that law says the Leader of Opposition should go to the largest single party. No other statutes define the post," Mr Sharma said, adding, "If we are denied it, this shall be contested and fought."
Mr Sharma said four statutory bodies require the vote of the Leader of Opposition: the Central Vigilance Commission, the anti-graft Lokpal, the Chief Information Commission and the National Human Rights Commission.
Sources said the BJP has sounded out other Opposition parties on the row. Parties like J Jayalalithaa's AIADMK and Mamata Banerjee's Trinamool Congress are not far behind the Congress on numbers and there has been talk that as a bloc they could counter the Congress' claim.
But the government is aware that while it has a big majority in the Lok Sabha, it is short on numbers in the Rajya Sabha and needs support there to push legislation. It might well look at leveraging the LoP's post to ensure the Congress' backing on bills.