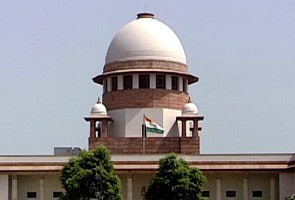 New Delhi:
The Supreme Court is livid that the Central Bureau of Investigation or CBI made a confidential report on its coal investigation, meant for the judges, available to the government in March this year. It has rapped the Centre for interfering with the CBI's investigations and has observed that the agency is a "caged parrot that has many masters."
The court made specifically strong observations on the Law Minister
Ashwani Kumar
's role, and questioned whether he can ask the CBI to show details of probe or status report in a case involving people of other ministries and the Prime Minister's Office (PMO). The Supreme Court referred to the 1997 Vineet Narain case in which the court laid down guidelines for transparency and said "Vineet Narain case only gives administrative powers to the minister, he cannot interfere with investigation."
The court has directed CBI not to share future coal status reports with any minister, not even with any law officers.
The court on Wednesday examined a nine-page CBI affidavit that details three "significant changes" made by the Law Minister and officials in the coal ministry and prime minister's office, to a draft of its coal report.
The court said that "the heart of the report was changed on the suggestion of government officials," rejecting the CBI's contention that the "central theme of the status reports have not changed." (
Read: Courts top 10 observations
)
The court reprimanded the government officials, both joint secretaries, and has sought to know from the Centre when it will bring a law to "free the CBI from the clutches of the government." (
Read more highlights
)
The court spelled out three specific guidelines for the CBI: If any change in composition is to be done, CBI will come to court; there will be no interaction with any person without the permission of the court; and none will be allowed to peruse the report. It also directed the CBI to reinstate Ravi Kant Mishra, the investigating officer in the case who had been transferred.
The CBI has said it will "follow directions of the Supreme Court in letter and spirit," and assured the court of "a thorough and qualitative investigation." (
Read: Who said what
)
Ashwani Kumar has so far refused to resign in the face of much Opposition fury, but top Congress sources said today that it is now "a matter of time now before a decision is taken"; Congress president Sonia Gandhi is reportedly not keen that Mr Kumar or Railway Minister Pawan Bansal, tainted by another scandal, continue.