Highlights
DG Vanzara key accused in alleged fake encounter case of Ishrat Jahan
His bail conditions relaxed after David Headley said Jahan was LeT member
Nearly 500 supporters welcomed him at the Ahmedabad airport
Ahmedabad:
Former Gujarat cop DG Vanzara will go home today for the first time in nine years. He was showered with petals by supporters at the Ahmedabad airport where he landed this morning.
A chariot awaited Mr Vanzara, who hopped on to it for a while and said, "This welcome is not for me, but for the Gujarat police." He then got into a car and drove off to Gandhinagar for another felicitation.
About 500 supporters, many of them wearing caps with the slogan Bharat Mata ki Jai received Mr Vanzara at the airport.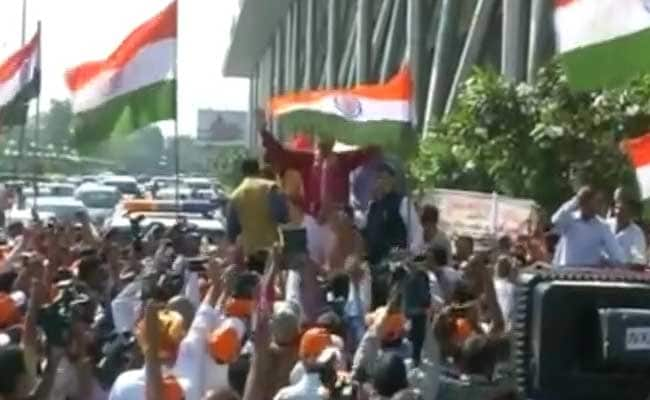 Earlier this month, a CBI court relaxed bail conditions for the retired police officer, allowing him to return to Gujarat. DG Vanzara is a key accused in the alleged staged encounter to kill Mumbai teen Ishrat Jahan and three others in 2004.
Mr Vanzara, also accused in the Sohrabuddin Shiekh and Tulsi Prajapati "fake encounter" cases, had been at the Sabarmati prison in Ahmedabad since 2007. He walked out of jail in February this year after being granted bail on the condition that he would not enter Gujarat. He was also barred from leaving the country.
On Saturday last, April 2, Mr Vanzara was allowed by the court to return to Gujarat
on the condition that he will present himself before the court every Saturday.
The former police officer had applied for a modification to his bail conditions last month after Lashkar-e-Taiba terrorist David Coleman Headley alleged in his deposition before a Mumbai court said that Ishrat Jahan was an operative of the Pakistan-based terror group.
Mr Vanzara
was Deputy Commissioner of Police (DCP) in the Ahmedabad crime branch when college student Ishrat Jahan and three others were shot dead by the Gujarat police on the outskirts of the city on June 15, 2004.
He has insisted all through that he did his job, obeying orders.
Once celebrated as a "Encounter cop" and "supercop", Mr Vanzara was arrested in April 2007 and sent to prison in connection with the alleged staged encounter killing of small-time criminal Sohrabuddin Sheikh and his associate Tulsi Prajapati. In September 2014, a Mumbai court granted him bail in the Soharabuddin and Prajapati cases, but he had remained in jail in connection with the Ishrat Jahan case.
He retired in 2014, while still in jail.