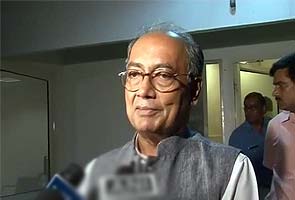 New Delhi:
Congress general secretary Digvijaya Singh has been named in a First Information Report (FIR) by the Central Bureau of Investigation (CBI), which is investigating his role in allegedly bending rules to allow a mall to come up in a residential area in Indore.
The Indore bench of the Madhya Pradesh High Court had last month ordered the CBI to handle the investigation. The allegations against Mr Singh date back to 2002, when he was the chief minister of the state.
In 2008, petitioner Mahesh Garg complained to the state's Economic Offences Wing (EOW) that the Treasure Island mall was a giant rule-breaker. He said that while the guidelines allowed a part of the land to be used for commercial use, on Mr Singh's directive, the entire plot of 2.5 lakh square feet had been cleared for a shopping mall.
In 2011, Mr Garg, unhappy with the progress of the Economic Offences Wing, took his case to court.
In April last year, the Economic Offences Wing said there was no evidence against Mr Singh. But the High Court has asked for a CBI investigation to be completed in six months. Mr Singh had tweeted at the time that he welcomed the decision. "Punish me if I have done anything wrong," he had said on Twitter. His tweets also claimed that Treasure Island was Indore's first mall and also "most popular".