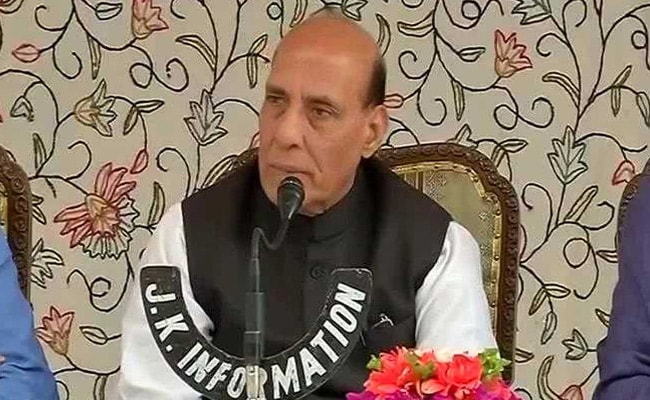 Jammu:
Home Minister Rajnath Singh on Tuesday indicated that some action will be taken in connection with the deportation of Rohingyas, who are considered to be a security threat to Jammu and Kashmir.
Talking to reporters in Jammu, Mr Singh said the Centre has a tough stand towards illegal migrants but a "sympathetic view" towards those displaced within the country and the minorities of Pakistan, Afghanistan and Bangladesh who have become refugees in this country.
To a question on deportation of foreigners from Jammu and Kashmir, he said, "We are discussing the issue of illegal migrants and some action will be taken."
He was asked about government's stand on deportation of Rohingyas from Jammu as they are considered to be a security threat to Jammu and Kashmir which is already battling with terrorism for over two-and-a-half decades.
"We cannot rule out the possibility of security threat and I have already cleared our stand with regard to illegal immigrants," the home minister replied.
Some 40,000 Rohingyas have settled in India, and 16,000 of them have received refugee documentation, the UN estimates.
Minister of State for Home Affairs Kiren Rijiju had said that Rohingyas were illegal immigrants and stood to be deported.
To a question about sealing of borders, Mr Singh said wherever fencing is not possible and physical barriers like riverine terrains can't be used, technology like sensor-based cameras will be used.