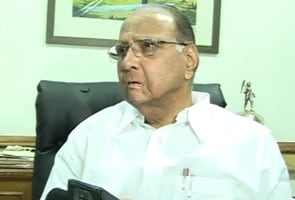 New Delhi:
Union Agriculture Minister Sharad Pawar has responded to Supreme Court's recommendations of distributing grains to the poor for free instead of letting them rot.
"It's not possible to implement the Supreme Court's order," the minister said.
On August 13, the apex court had asked the Centre to consider free distribution of foodgrain to the hungry poor of the country instead of allowing it to rot in Food Corporation of India (FCI) godowns.
(Read: Give free grains to hungry, don't let them rot: Supreme Court to Govt)
"Give it to the hungry poor instead of it (grains) going down the drain," a bench of Justices Dalveer Bhandari and Deepak Verma told Additional Solicitor General Mohan Parasaran appearing for the Centre.
The bench asked the Centre to ensure construction of a big godown in each state besides separate godowns in different districts and divisions within the states and expedite the computerisation process of PDS system to check pilferage and corruption.
The bench passed the direction while dealing with a Public Interest Litigation (PIL) filed by the civil rights group PUCL on rampant corruption in Public Distribution System (PDS) besides rotting of food grains in FCI godowns.
The measures suggested by the apex court in an order included:
(a) increase in the quantum of food supply to the population Below Poverty Line
(b) opening fair price shops on all 30 days a month
(c) distribute foodgrain to the deserving population at a very low cost or no cost. (With PTI inputs)